NEWS
Cristián de la Fuente Likely to Drop Out of DWTS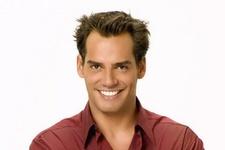 Cristián de la Fuente may have danced his last dance.
The Chilean soap star will most likely withdraw from Dancing with the Stars after in his arm on Monday night's show, sources tell Extra.
Cristián will appear on tonight's results show, where he will announce his intentions, he source adds.
During his samba with partner Cheryl Burke, the actor pulled a muscle in his left arm and was in so much pain that he was unable to complete the dance.
Article continues below advertisement
"I heard a pop…I thought it was my dress but afterward he told me 'My arm popped,'" Cheryl says.
In tears, she told OK! backstage, "I'm still shocked by the whole thing. He had no control over it and he still kept going -- tried to, at least."
After icing his arm for the remainder of the show, Cristián was admitted to the ER for further evaluation.
It is unknown the protocol ABC will follow with the elimination results should Cristián pull out.
For more on Cristián, tune in to Extra tonight!