NEWS
'Dance Moms': About That Scene with Abby Lee Miller and Maddie Ziegler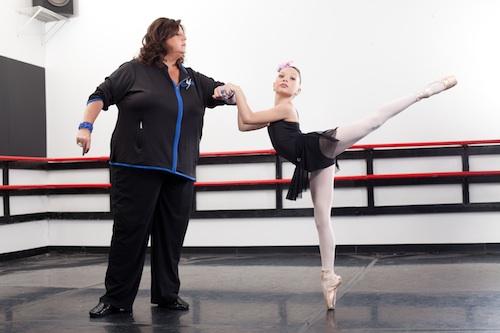 That was intense, was it not? In fact, I was tense for pretty much the entire hour last night, but the real drama came in that short but telling scene with Abby Lee Miller and her fallen star, Maddie Ziegler.
Abby and Maddie have always had a special relationship, and I have always liked watching them work together (not at the expense of the other kids, but it is nice to see such a strong teacher-student bond). I'm one of the few people who likes Abby, but after last night, I feel the need to call her out on that scene.
Article continues below advertisement
DANCE MOMS: ABOUT THAT DUET WITH STAR STUDENT MADDIE ZIEGLER AND UNDERDOG KENDALL VERTES
Abby once said something in response to one of the moms telling her that she didn't understand anything about disciplining kids because she doesn't have children of her own. It stuck with me: "No, but I had a mother and a father and if they gave me one look, I knew."
I'm one of those people who knows about the look—it seems all my friends (who are now in their late 20s or early 30s) also know about the look. The look meant you knew to shut up and shape up, and it was your warning. And for the most part it worked.
So, I don't understand Abby getting upset with Maddie over something her mother, Melissa Gisoni, decided to do. She seems to think Maddie should have defied her mom and said, "No, I want to dance!" and run into the studio. Maddie is 10 years old! She may love to dance (and I believe she really does have a unique passion for it) but she's not going to blatantly disobey her mom.
I don't have a problem with Abby yelling or pushing the kids to apply their corrections and improve. I personally don't feel coddling these kids is going to get them anywhere. And at least one of Abby's former students has gone on record agreeing with that. But Abby does take her anger with the moms out on the kids, and that's not good. It makes the kids tense (hello, it makes me tense and I'm just watching it on TV).
Article continues below advertisement
EXCLUSIVE! DANCE MOMS' CHLOE LUKASIAK TALKS SEASON 3 AND ABBY LEE MILLER: "SHE'S WORSE IN REAL LIFE"
The Abby Lee Dance Company placed fourth in the competition that aired last night, while Studio Bleu, which included ALDC's temporary replacements, finished first. Christi Lukasiak blamed it on bad choreography. I didn't think it was bad, but I didn't think there was much actual dancing. It was more of a gymnastics routine. So yeah, the choreography probably had something to do with it, but guess what? The fact that the girls' prep space is filled with tension and screaming ladies isn't helping. The moms instigate things as much as Abby (as Jill Vertes demonstrated last week), but they all need to accept blame for this loss. That's my opinion, but I want to hear yours! Vote in the poll below, tweet @OKMagazine and or @reallylsass and sound off about Dance Moms!
(By the way, the results of last week's poll revealed that 66 percent of you believe Melissa was upset because Maddie had a duet—not because the duet was with Kendall Vertes (33 percent).