NEWS
'Dance Moms': A New Low in Contrivance?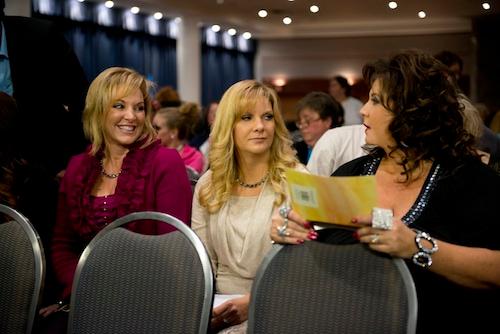 So, last night's Dance Moms...let's discuss. There were some things that were great, but they were overshadowed by the total contrivance of the moms showing up just as Abby Lee Miller kicked those fake dance moms out.
This show has become more and more contrived every season, practically every week. I've said in the past that the "reality" aspect of Dance Moms takes a backseat in most discussions because there is just too much else to be invested in. I still think that's true, but last night's episode makes me want to bring that discussion front and center.
Article continues below advertisement
OK! NEWS: EXCLUSIVE! DANCE MOMS' CHLOE LUKASIAK TALKS SEASON 3 AND ABBY LEE MILLER: "SHE'S WORSE IN REAL LIFE"
There were plenty of things to enjoy about the January 15 episode that could have been even better were it not for the magical timing of the ousting of the fake moms and the surrender of the real dance moms: Abby kicking the fake dance moms out was fun to watch, even if it was pre-planned, but maybe we would have savored the moment longer if their kids didn't very realistically begin to cry when they learned they were going home? I hope these kids are actors, but I don't think they are. And it's disturbing to think that those two little girls may have really thought this was their big shot at fame when their days were numbered since the beginning.
The mother-daughter moments between Christi and Chloe Lukasiak were totally heartwarming, and Christi needed viewers to see her this way after the show she's been putting on since the start of the season. I've always liked Christi, but she's going off the deep end. If Chloe doesn't get a solo, it's because Abby hates her. If she does get a solo, it's because Abby is setting her up to fail, because...you guessed it! She hates her. Abby should have paid more attention to Chloe's solo, yes. She cast her aside in favor of Sophia Lucia, I agree. But we the audience only need to hear this from Christi's mouth once per episode. Much of that confessional time with Christi could have been replaced with actually seeing Abby work with Sophia while Chloe was on her own in the corner. We're smart enough to understand the moms' frustration by this point, are we not? Producers don't seem to think we are. What other conclusion can I come to when Christi is screeching about the same things over and over again? As someone who really has liked Christi for two seasons, I can't help but feel like the whole thing reeks of producers pushing her heighten the drama. She's become a caricature of herself.
Article continues below advertisement
The continuity began to suffer greatly in this episode also. Wasn't Maddie Ziegler always the one who had the emotion behind her dancing while Chloe lacked "face" and feeling? Suddenly, Chloe is winning awards for "heart" or something, and we're hearing that Chloe's emotion is something child prodigy Sophia can't take away. I love any special attention given to Chloe, but where did that come from? Can any dancers out there tell me if that's a real thing? We've never seen that before, and we've definitely been to In10sity Dance.
Article continues below advertisement
One of the best moments last night was one I think was actually real: the red carpet getting stuck as Mackenzie Ziegler tried to roll it out. Adorable, funny and not (at least I think not) contrived.
And so, Dance Moms producers, I beg of you: get back to the basics. You have an interesting dynamic that we all want to see play out. Of course all reality TV is not "reality." But it is becoming far too obvious that every little thing is manipulated. And the more the moms talk in confessional, the more I think there's nothing else to show. Just as you rely on the girls for their natural talent, you can rely on the moms for their pension for getting pissy and being overprotective to result in blowouts and drama. (And rely on your audience to keep watching.)
Tweet @OKMagazine and let us know if Dance Moms is no longer ringing true for you. (Or, tweet me, @reallylsass, because I can talk about Dance Moms all day long!)