NEWS
'Dancing With the Stars' Exclusive: Cheryl Burke on Her Dancing Mishap With William Levy & Melissa Gilbert's Injury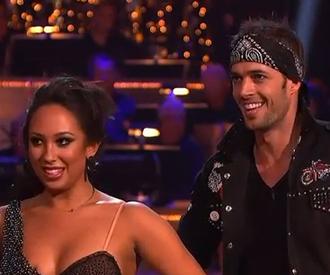 Article continues below advertisement
In my head, I am thinking, "Do I stop and buckle my shoe or do I keep going through with it?" I just had to keep going and go through with it because you never know. My shoe could have flopped somewhere else. I had to hold on to it with grip just to keep the shoe on. The Jive has got such fast pace, there is no time to stop because were are constantly moving. But accidents happen, and you just have to move on.
As for Melissa, I danced right after her. I know she had some problems with her head and I hope she is okay.
To prevent injuries, you just really have to take care of yourself and stretch and make sure you rehearse through out so you know what to expect. But with stuff like this with my shoe coming out, I could have had an injury and my ankle could have been sprained. You just have to keep going, it's a live show.