NEWS
'Dancing With the Stars' Exclusive: Cheryl Burke on William Levy's Injury and Inside Rehearsals!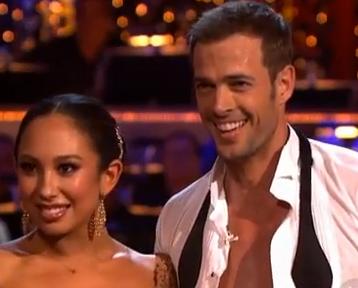 Cheryl Burke weighs in on William Levy's injury and what rehearsal is really like!
William was actually really hard on himself last week, and he really wanted to work harder and rehearse harder. He was really pushing himself.
I felt amazing tonight, but I was so nervous. I felt like my heart was going to jump out of my chest. I still get nervous to this day so it's really important for me to dance to my maximum and have us together. It's important for us to have this chemistry because I know that we can do it. You come in with such a high and then you have a couple of stumbles. We needed to come out tonight and nail it.
Article continues below advertisement
MORE ON:
Dancing With the Stars
Rehearsals are always fun. We always sneak up on each other because we are all rehearsing in one big warehouse. We are just checking on each other to see who is doing what. William is very serious on Wednesdays. He gets very frustrated so I need to be a really good balance and tell him, 'It's okay, it's okay!' By Thursday, he likes it. By Friday, it's clicking and we are doing it to music. By Saturday, he is in a great mood!