NEWS
'Dancing With the Stars' Says Adios to Chris Jericho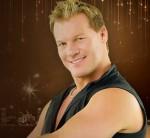 And then there were six. Couples, that is. In an exciting episode of Dancing With the Stars which included American Idol cast off Pia Toscano singing while Mark Ballas danced, it was time for wrestler Chris Jericho and Cheryle Burke to say adios to the disco ball dance floor.
OK! EXCLUSIVE: BEHINDS THE SCENES AT DANCING WITH THE STARS GUILTY PLEASURE NIGHT!
Turns out, Cheryl kind of saw it coming! Last night she told reporters, "You can kind of feel it when you get the lowest score on the leaderboard, so I don't know if expecting is the right word, but it happened."
Article continues below advertisement
OK! NEWS: KIRSTIE ALLEY HAS TV SERIES IN THE WORKS WITH "VIRGINIA WOOLF" CONCEPT
Considering that Chris' wife and kids live in Florida, he sounds pretty psyched to reunite with them before it's time to tour with Metallica this summer. "I think I'm the only other person on the show that has family away from here, so it's hard." He added, "It's nice to know that ok, lets get back to the real world and what's important."
OK! VIDEO: WATCH KARINA SMIRNOFF TRIP & FALL ON DANCING WITH THE STARS
As for whether or not he'll continue dancing back at home or even on the road, the verdict's still out, especially without Cheryl as his partner. He dished, "I would love to but I know 6 routines, so I don't know where I would do my six routines, if Cheryl wasn't there who would I dance with?" He explained, "I could try and teach it to my wife but it would take 75 hours to try and get one done, which is what it took for us, so maybe in the finale we'll get to do something fun."
OK! NEWS: RALPH MACCHIO DISHES ABOUT FALL ON DANCING WITH THE STARS
Sounds like no regrets though as he told reporters he's more cut and lean now. "I can go back and lift weights again now, it's been two months since I've been able to go work out, but you don't need it, that's the thing, when you're in the studio."
Reporting by Amanda Champagne