NEWS
'Dancing With the Stars' Winner Jennifer Grey: "I Just Feel Like a Very Lucky Woman"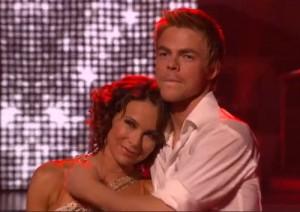 After three months of intense competition, Dancing With the Stars Season 11 crowned a winner — Dirty Dancing star and season front runner Jennifer Grey. While Jennifer may have won the coveted mirror ball trophy with her partner Derek Hough, all the finalists seemed to leave the dance floor content. Kyle Massey and dance pro Lacey Schwimmer said they never expected to be beat Jennifer and were proud of second place, while Bristol Palin and Mark Ballas felt that if it were the Olympics they had walked away with bronze!
Article continues below advertisement
All of the Season 11 dancers returned for the grand finale except for Audrina Patridge and Michael Bolton. Audrina was reportedly sick and Michael was busy performing at a concert.
But the evening was all about big winner, Jennifer, who said she was in a "surrender moment" when she was waiting for the results.
"I was just blank," she explained. "Like whatever happens will be great, because the absolute destination for me, was the journey. This journey was the gift. Saying yes was the gift. Getting Derek as the partner was a huge gift. And the fact that my family stood by me and let me go away for three months, and the fact that my doctors kept putting me back together."
So how does it feel to be crowned the winner?
DWTS WATCH: JENNIFER GREY DOES DIRTY DANCING; BRISTOL PALIN'S CAGE DANCE
"I just think that I got to have my first success in my career in a movie that gave people so much joy, and made people feel great when they were watching it, that we got to be part of a show where people are transported for a couple hours a week, they (hours) mean so much to so many people," she said of her victory. "And there's so much fun and glamour and silliness it's just a great gift to be part of a show that gives people so much joy."
Article continues below advertisement
When asked if she feels like the show has made her "America's sweetheart," Jen responded, "I just feel like a very lucky woman."
The lucky woman experienced an intense road to the top, battling injuries with her neck and back up until the very end.
Jen ruptured a disc during Monday night's performance, yet she performed both dances in the finals on Tuesday anyway.
"I think it may have been one of those flips or something," Jen said of the ruptured disc, which may have been triggered by her high-energy freestyle performance Monday night. "When you dance with a 25 year old it's a risk you take."
Jennifer's husband Clark Gregg and young daughter didn't miss a beat of the competition, always cheering their leading lady on from the audience.
Article continues below advertisement
"I gotta tell you, this ruptured disc is putting a bit of a hitch in my plans, but I will make it up to my daughter and my devilishly sexy husband, waiting for me, and letting me dance with Derek and being the most amazing husband and father."
And where will that trophy be displayed?
"The kids room! She deserves it, she stood by me," Jennifer said.
Jennifer paid homage to her Dirty Dancing character, Frances "Baby" Houseman, in two different dances this season.
During the first night of competition, she took on a Viennese waltz to "These Arms of Mine." The actress broke into tears during that rehearsal, saying in clips from the show remind her of her co-star, the late great Patrick Swayze.
Article continues below advertisement
Jen and Derek performed that same waltz again on last night's finale.
Her other Dirty Dancing moment was to "Do You Love Me," during Monday night's show. She even carried the now-iconic watermelon on the stage before tossing it away and revealing a hot-pink sparkly costume and dancing her freestyle — which had choreography by Derek that incorporated many elements from that scene in the film.
So who decided to take on the Dirty Dancing freestyle — Jen of Derek?
"We collaborated so much," Jen said. "He is so talented in terms of concept and execution and he just wants to make memorable dances, so we never actually thought about dancing, at least I didn't, I think our goal was always to do memorable dances, which is what he (Derek) told me when I met him so completely thrilled and blessed to get him as a partners. I feel very greatful that I got him as a teacher and partners, and he gets all of it, he's not just a dancer at all"
Catch Jennifer's Two Dirty Dancing tributes below!