NEWS
DWTS Watch: Jennifer Grey Does 'Dirty Dancing'; Bristol Palin's Cage Dance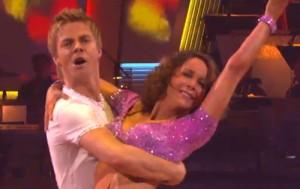 The first night of the Dancing With the Stars' finale brought out some of the best dances of Season 11. The three remaining finalists — Jennifer Grey, Kyle Massey, and Bristol Palin — danced a "redemption dance" and the mandatory freestyle as they battled it out for the Mirrorball Trophy! Jennifer and partner Derek Hough led the leader board last night receiving a perfect 30 out of 30 in both dances.
Article continues below advertisement
Judge Carrie Ann Inaba worked with Jen and Derek before their first-round paso doble — redeeming themselves from week 6 when Jen's first attempt at the dance did not receive any praise from the judges.
The duo danced to "Habanera" (from Carmen) and looks like the second time was the CHARM!
"This is the meaning of redemption! This is redemption!" Carrie Ann shouted after the sultry performance, which received a standing ovation from stringent judge Len Goodman.
For the freestyle round, it may come as no surprise that Jen and Derek paid homage to Dirty Dancing with a routine to "Do You Love Me" — Jen noting that "Time of My Life" was not considered because that dance holds special meaning for her and the late great Patrick Swayze.
Article continues below advertisement
And to really hit the Dirty Dancing theme home, Jen even carried a watermelon on stage, embracing her best known character — Baby!
Jen soon tossed the watermelon aside and stripped down into a two-piece pink sequin number, and the high energy performance had the crowd screaming and received another perfect score.
Kyle and Lacey ended the night ended the evening in second place with a score of 56 out of 60.
The That's So Raven star attempted to redeem his week 5 "Charlie's Angels" foxtrot. He and Lacey kicked off the finale night with "Feelin' Good" after receiving direction from Len.
The judge's critiques addressed his improvement and he received a 27 out of 30 for the routine.
Article continues below advertisement
For the freestyle round, the energetic duo performed "Tootsie Roll" which prompted Carrie Ann to call Kyle "the Fresh Prince of Dancing With the Stars." He received a 29 out of 30 for the dance.
Finally, Bristol and partner Mark Ballas ranked third last night, scoring a combined 52 out of 60 for their work in the ballroom.
OK! NEWS: MAN SHOOTS TV SCREEN AFTER BRISTOL PALIN'S DWTS PERFORMANCE
"There are lots of haters out there who are looking forward to seeing me fail," Bristol had announced last week, and some believe she may have been pushing the sympathy card a little too hard.
However, after TMZ reported Bristol and Mark were receiving death threats, the security was amped at last night's finale to protect the duo.
Bristole danced a redemption jive to "Move" from Dreamgirls and the judges noted an improvement.
"Last time a gorilla, and now a thrilla!" Len announced.
Judge Bruno Tonioli advised Bristol and Mark in the rehearsal studio.
Article continues below advertisement
Bristol's sexy freestyle to "Cell Block Tango" from Chicago and part of her act included dancing in a cage. Mom Sarah Palin looked proud as ever in the audience.
Her freestyle received the lowest score with a 25 out of 30.
After the show Bristol spoke to OK! of her take on the, "haters."
"I just let whatever they say roll off my back.and I think we did well tonight and I think it shows."
Catch some clips of last night's dances below!
Jen & Derek perform"Do You Love Me" from Dirty Dancing for their freestyle routine!
Jennifer redeems with her Paso Doble.
Bristol Palin Freestyle — She dances in a cage to Chicago's "Cell Block Tango" !
Kyle Massey Freestyle — "Tootsie Roll"