NEWS
Dark Knight Shines at People's Choice Awards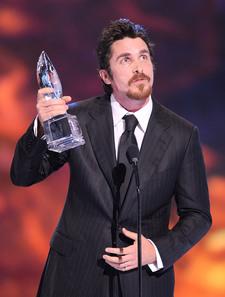 It was another bittersweet moment for the cast and crew of The Dark Knight on Wednesday as their blockbuster film swept all five of its nominated categories at The People's Choice Awards, all the while keeping their late friend and co-star Heath Ledger in their hearts.
"Here's to Heath," said a subdued Christian Bale, raising the statue to the rafters as he accepted the award he and the late actor shared for Favorite On-Screen Mathchup.
Article continues below advertisement
In addition to that award, Dark Knight was a winner in the Favorite Movie, Favorite Cast, Superhero and Action Movie.
On a happier note, it was a good night for the couple of Brad Pitt and Angelina Jolie, both of whom were victorious (though neither of them were able to make the ceremony).
Brad was the winner in the Favorite Leading Man category while babymama Angie's work in Wanted earned her the Favorite Female Action Star title.
And though his movie Seven Pounds isn't exactly winning over the critics, the voters of the People's Choice still selected Will Smith as their Favorite Male Movie Star.
On the women's side, it was Reese Witherspoon being named Favorite Female Movie Star. Showing that she really can play any kind of role you throw at her, Reese mused about the differences between her awards-sweeping performance in 2005's Walk the Line and this year's Four Christmases. "A couple years ago, I won a great award for singing in a movie. This year, I won an award for having a baby throw up on me."