NEWS
David Arquette & Howard Stern Debate Courteney Cox's 'Cougar Town' Dating Rumors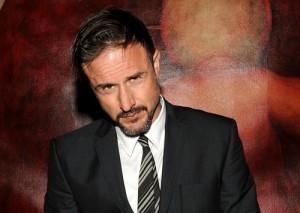 David Arquette is sitting in all week on The Howard Stern Show and the subject of his estranged wife, Courteney Cox, is coming up a lot. At times, David tries to watch what he says (after he revealed too much last time), but it doesn't seem to be working all that well!
OK! NEWS: HOWARD STERN — "HANG IN THERE, DAVID ARQUETTE"
David is helping host with Howard Stern on The Howard Stern Show and on Wednesday Cougar Town star Christa Miller stopped by to promote the new season of the show.
Article continues below advertisement
So was this awkward for David to be chatting with Courteney's co-star?
Well, it seemed like it!
Before Christa came on, Howard confronted David.
"I think she's lying to you," Howard told David. "I think she's involved with someone on the show."
"She's not a liar," David said.
"I know for a fact," Howard said. "I'm getting tired of this 'We're such good friends' bulls**t."
And when Christa appeared, David said, "I'm actually going to take my name off the show because I'm so not involved."
"She's not that type of person," Christa said about Courteney's not caring. "But I don't know what David should do. I mean, I don't see David at work."
OK! NEWS: DAVID ARQUETTE ON COURTENEY COX — "WE'LL BE TOGETHER FOREVER"
And Howard also brought up the reports that Courteney had a "platonic" vacation with her Cougar Town co-star, Josh Hopkins, and Christa chimed in.
"This is what she told me from that trip to St. Barts. That 'Josh could not get laid.' That it was a very dry trip for him," Christa said. "And it was the worst trip for him because he couldn't get laid."
Howard wondered how anyone could believe that Josh was trying to bang anyone but Courteney: "Why is everybody so naive?" Howard asked. "Everyone sounds like a robot here. You know, 'We're trying to figure it out. We're trying to figure it out.' I think it's been figured out."
"Yeah, I think so too," David said with a shrug. "I think Courteney just hasn't admitted to it. It's a compatibility thing."