NEWS
David Arquette Reveals Coco Has Been Bullied & Tells Her to "Rise Above It"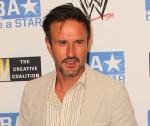 Article continues below advertisement
David told OK!, "Yeah my sister Alexis is transgender and I just saw first-hand how kids treated her. Kids can be really cruel." Whether it's online or off, he mentions that sadly people tend to frequently judge others which is so not how he rolls. He adds, "I really try to be respectful of people and embrace and appreciate everybody's differences."
OK! GALLERY: COURTENEY COX & DAVID ARQUETTE CELEBRATE EASTER TOGETHER
Then, he revealed his own daughter has been bullied, too. He told OK!, "Well you know she has been bullied, people have hurt her feelings and you just have to tell her and tell these kids that they're special, that they have a special gift that nobody else has, that they have a light inside of them that can be positive. You can choose to accept this negativity that's coming your way or you can rise above it and be the best person you can be."
Article continues below advertisement
OK! VIDEO: DAVID ARQUETTE AUCTIONS OFF A BARBECUE FOR WORLD MALARIA DAY
As a parent, that could be a difficult road to travel. He told reporters you definitely have to talk to teachers and let people know what's going on. He pointed out, "Part of bullying is people not standing up, not doing anything so its really about making the teacher aware about it, bringing it out into the open and you know, a lot of times this stuff lives in the dark."
OK! NEWS: DAVID ARQUETTE ON COURTENEY COX — "WE'LL BE TOGETHER FOREVER"
Switching gears, David mentioned he stays grounded with creativity, arts and exercise, balance and "trying to be mindful of life,." In fact, both he and Courteney have sat down with their daughter to communicate on a consistent basis with her.
He told OK!, "Yeah we talk quite a bit and we're really open and we're really communicative. She's really open too and she asks us questions. We all communicate much better now than ever before."
Reporting by Gena Oppenheim