NEWS
David Beckham Plays Historic Soccer Match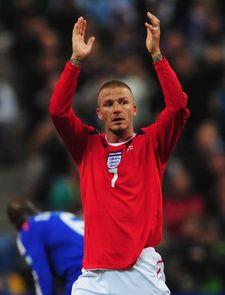 On a historic Wednesday night, soccer star David Beckham took the field in France to play his 100th match with England's National Team, making him only the fifth player to ever achieve the triple figure.
With his wife, Victoria Beckham, his three sons and the entire Beckham clan watching from the stands, David, 32, took to the field at the beginning of the game around 9 p.m. local time, wearing golden boots to mark the match.
Article continues below advertisement
"David was so excited to play," a close pal said. "He is still enthusiastic and has a great passion for playing for his country."
Around 38 minutes into the match, Beckham received a yellow card warning for an infraction against the French team. Later, with France leading 1-0, Beckham was substituted out by the team manager, but not before leaving the field to a standing ovation from the crowd.
Although England lost 1-0, Beckham came back out onto the field following the game to applaud the fans.
The entire Beckham clan was expected to celebrate in Paris with a private dinner for the family after the match. But then it's back to business as usual. Beckham's first match of the season with the L.A. Galaxy will be on Saturday in Denver, Colo.