NEWS
David Letterman's Theater Gets Trashed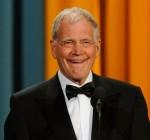 The show must go on for the Late Show With David Letterman as Emma Watson, Chris Evans and George Lopez appear as guests tonight, but this morning the show is picking up the pieces for a criminal case that's no laughing matter. Yesterday morning an aspiring actor kicked the front glass door of the famous Ed Sullivan Theater in NYC and then proceeded to trash the studio lobby.
OK! VIDEO: SHIA LABEOUF RE-ENACTS AN ARGUMENT WITH MICHAEL BAY FOR DAVID LETTERMAN
Article continues below advertisement
A source told The New York Post, "The inside looked like it was a drunken bar brawl." James Whittemore apparently passed out at about 5:30 a.m. on a sidewalk near the famous theater where the Beatles made their American debut in 1964. Well, at around 7 a.m. the 22 year-old woke up, realized his cell phone was MIA and freaked out.
He started urinating on one of the glass doors of the theater's lobby and then kicked his way through it. Then his anger erupted onto an old box office and he smashed a printer. As noted by The New York Times, he threw trash across the floor and didn't proceed to gain access to the area where David Letterman tapes the show.
Although it may seem like he was a drunk, unemployed actor with a gripe towards the show, turns out he didn't have a connection to the show. A spokesperson for Dave's production company, Worldwide Pants indicated he "had no known connection to the theater or Mr. Letterman's show."