NEWS
Shia LaBeouf Re-enacts an Argument With Michael Bay for David Letterman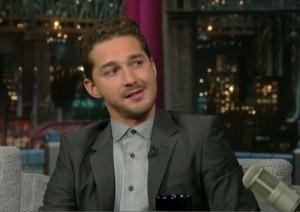 Shia LaBeouf says interns eat it up if "aggressive" director Michael Bay screams at them on the Transformers set, but Shia feels a bit differently and has shared some "cross words" with him. The Transformers: Dark of the Moon star proceeded to re-enact an argument on Late Show With David Letterman.
OK! NEWS: SHIA LABEOUF HOOKED UP WITH MEGAN FOX — "IT WAS WHAT IT WAS"
Shia has worked with Michael for six years, since he was 17 years old, on the Transformers franchise.
Article continues below advertisement
So, how does Shia describe his director?
"He's an incredible dude. He's aggressive," he explains on Late Show With David Letterman. "He's an aggressive guy, hard to work for and demanding. But he's also a caricature of himself."
"He's at the point now where he's famous for his behavior, in a way, especially on set, because he's a very aggressive dude," Shia added. "So, you have these interns who come to set, two or three, and it's a dream to be screamed at by Bay."
Watch Shia re-enact an argument with Michael Bay in the interview clip, below!