NEWS
Day 9 of Oscar Pistorius Murder Trial: "Blade Runner" Vomits In Court—Again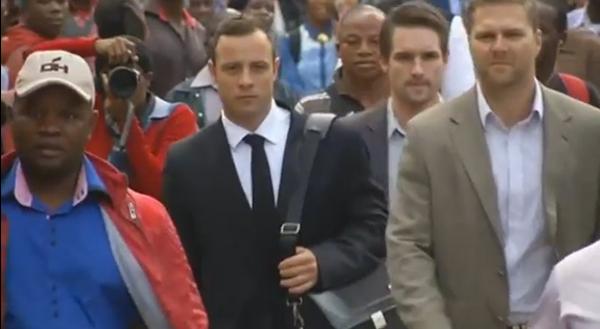 The Oscar Pistorius murder trial resumed for the ninth day today in Pretoria, South Africa. Pistorius, famous for his participation in the 2012 London Olympic Games, is accused of killing his model girlfriend, Reeva Steenkamp, on Valentine's Day 2013. Here's what you need to know from today's testimony:
OK! News: Day 8 of The Oscar Pistorius Murder Trial - A Breakdown
1. For the second day, Pistorius' attorney cross-examined a police witness who was brought to the stand by the prosecution to prove that, after shooting and killing Steenkamp through a bathroom door, Pistorius knocked down the door with a cricket bat while on his stumps, and not on his prosthetics, as he has insisted. If they can prove that the marks on the door could only have been made by someone essentially on their knees, it would prove that Pistorius is lying, which is damaging to his case.
Article continues below advertisement
2.) To support his theory, the defense attorney called up gruesome photos from the scene of the crime, which made Pistorius so physically upset, he vomited in court for the second time this week.
3.) After a scheduled break, testimony was heard (in Afrikaans, through a translator) by Gen. G.S. van Rensburg of the South African Police. He was walked through police photographs of the crime scene. At this point Pistorius looked fairly relaxed, as graphic photos had been removed following his reaction earlier in the day.