NEWS
Delta Gamma Sorority Sister Resigns After Insane Expletive Filled Email Rant Goes Viral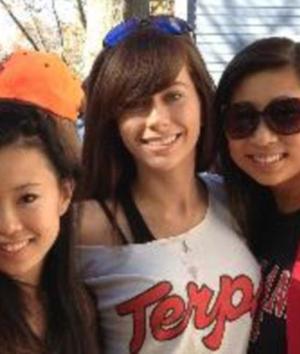 The Delta Gamma sister who unwittingly shot to infamy last week—after an expletive filled email of hers went viral—has resigned from the sorority, OKMagazine.com is reporting.
The University of Maryland chapter of Delta Gamma announced the news on their Facebook page—explaining they had accepted Rebecca Martinson's resignation because "the tone and content of her publicly leaked email was highly inappropriate and unacceptable by any standard" and "all reasonable people can agree this is an email that should never have been sent by its author. Period."
Article continues below advertisement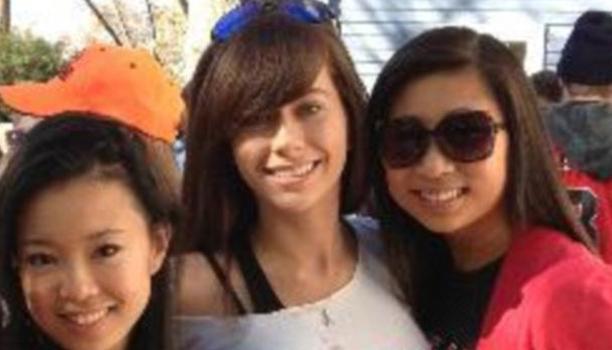 Rebecca Martinson (center) has resigned from Delta Gamma after an insanely angry, expletive filled email of hers went public
In her insanely angry, expletive riddled missive Martinson threatened to "c**t punt" her entire sorority chapter and berated members for "'LITERALLY being so f***ing AWKWARD and so f***ing BORING" when interacting with a fraternity during Greek Week.
Kicking off her rant with the understated warning, "tie yourself down to whatever chair you're sitting in, because this email is going to be a rough f***ing ride"
Martinson then went on to insult people of various different….
Ethnic groups:
"One of the perks of going to class ugly is that the Mexicans working along the sidewalk don't try to talk to me #fug4thewin #nottryinghard" she mused at one point.
"I like my men like I liked my karate movies. . . vaguely Asian but white enough that I can understand what they're saying," she shared later.
Sexual orientations:
Article continues below advertisement
"Why am I not surprised that the girl w/ a pink mohawk and cargo pants is talking about LGBT rights when it doesn't even apply to this class?"
And everyone's favorite stalwart easy to offend topic, religion.
"You know you go to Maryland when the guy next to you at the gym is wearing a yammaca."
In the true spirit of sisterly solidarity, Martinson warned against supporting rival teams, vowing, "I WILL F*****G ASSAULT YOU" if caught—adding, "If you have done ANYTHING I've mentioned in this email and have some rare disease where you're unable to NOT do these things, then you are HORRIBLE, I repeat, HORRIBLE PR FOR THIS CHAPTER."
Signing off from her motivational message with, "For those of you who are offended at this email, I would apologize, but I really don't give a f**k."
It is not known who leaked the email to the press but it rapidly went viral after the website Jezebel posted it, and the backlash and ridicule has been considerable.
Martinson was also forced to delete her Twitter account after Jezebel posted numerous screenshots of varying degrees of offensive tweets she had posted poking fun of people from different races, ages, body types and sexual orientations.
Article continues below advertisement
In their statement, Delta Gamma acknowledged the email was not intended for public consumption, "This is a regrettable action by a college junior - a personal email that is now on view for a global audience."
But that, "no matter who released it to the pubic or how it reached such a mass audience, the email content should not reflect on any sorority woman in general or any fraternal organization at large."
Signing off, "For the young woman who wrote the email, we can only express our regret and concerns for landing notoriety in this manner," before concluding, "we now consider this matter closed."
Meanwhile, the email has inspired various different dramatic readings, including a hilarious one from Boardwalk Empire star Michael Shannon.
Do you think Martinson should of resigned over the email? Sound off in comments and tweet us @OKMagazine