NEWS
OK! Exclusive: Demetria Lucas Talks Blood, Sweat & Heels Season 2 Secrets, Planning A Wedding On Reality TV And Melyssa Ford And Geneva Thomas' Feud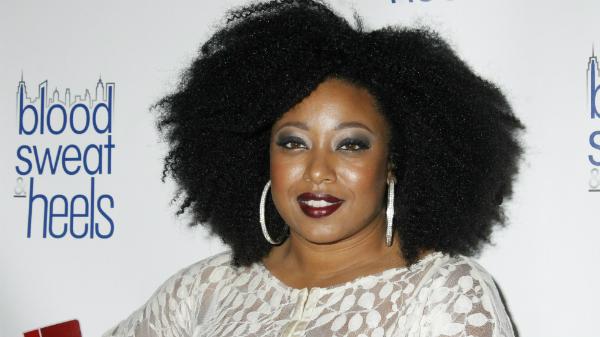 Article continues below advertisement
OK!: Are you nervous about the new season?
Demetria Lucas: I'm not nervous at all. I'm really looking forward to it. It think it's a very exciting season. I had a lot going on while the cameras were rolling for those few months, and I'm just excited to share my story with people again.
OK!: You've also gotten married since the show's debut season.
Lucas: I did! My wedding is going to featured this season.
Article continues below advertisement
OK!: What was the experience like having to plan a wedding while dealing with everything that comes with taping a reality TV show.
Lucas: It really wasn't that stressful of a day. I had a lot going on this season. I was promoting my second book, Don't Waste Your Pretty. It came out a month before my wedding, and I was really overwhelmed with having those two things on my plate. So I hired an amazing wedding planner and she took care of almost everything. I had to give her my vision, and she made it a very simple process. So I wasn't nervous. I wasn't stressed. It was a really great experience.
OK!: And do you have any concerns about having your marriage shared on the reality show.
Lucas: My marriage is not really out there. On the first season of the show, people saw that I was engaged. They saw me interact with my fiancé, but we don't put our dirty laundry out there. It's just very much about planning our wedding. But the ends and outs of our marriage, the day-to-day and the problems that we have, that's not out there for the public. To have a bunch of prying eyes and opinions is not really good for a relationship.
MORE ON:
Blood Sweat And Heels
Article continues below advertisement
OK!: Now the trailer for this season includes a few scenes with several pairs of high heels on fire. Is that a hint there is more conflict happening between the ladies during Season 2?
Lucas: I would definitely say there is conflict, but there is also a lot of resolution. As for specifically what happened between Geneva and Melyssa, I wasn't there. I was shopping for my wedding shoes out in Roosevelt Fields, so I'll be watching to see those details like the rest of the world.
OK!: And how did you react when you heard about the altercation between Geneva and Melyssa on the yacht?
Lucas: Those are two of my very close friends, that's not just for TV. I reached out to both of them immediately. Obviously they were dealing with their own issues, but I was with Melyssa the night that it happened. I was at her house until 2 a.m. I said the day after everything happened that I don't condone violence in any way, so I'm going to see how it all plays out along with everyone else when it airs on television.
Article continues below advertisement
OK!: Was it difficult being in the middle of that situation between your two really good friends?
Lucas: It's definitely a tough situation to be in. I do my best not to choose sides, and neither one of them tried to put me in the middle. They both respect my friendship with them.
OK!: How did you juggle planning your wedding and working on your second book?
Lucas: My second book was a big challenge for me. It was supposed to come out in early 2014. At the last minute, I scrapped it because I didn't feel it was up to par. I was juggling too much. The writing just wasn't my best, and I scrapped it a couple of days before the release and re-wrote the whole thing. Then I ended up with writers block. It was a really challenging ordeal to get out Don't Waste Your Pretty, but I'm really happy with the final product.
OK!: What's an area that you feel is a positive change for the ladies on the show this season?
Lucas: From last season, there were a lot of conflicts that were caused by miscommunication or misunderstandings. I think we were all on the defensive about being a first season show, not knowing what to expect from one another and just expecting the worst from sometimes the way people act when cameras are rolling. I only saw one side of some of my castmates, and sometimes it was very confrontational when we filmed. But I think we all grew a little bit. Seeing yourself on TV on a regular basis, you start to pick up on some of the things you can improve on. Some of the conflicts I had with Daisy and some of the conflicts I had with Mica, I think we were very responsible with our relationships. After getting to know each other a little better and having mutual friends we tried to behave like grown-ups, or at least not be so confrontational when we see each other.
What are you looking forward to most during Blood, Sweat & Heels' second season? Tweet us @OKMagazine or let us know in the comments section below.
And be sure to tune in to Blood, Sweat & Heels' new season on Sunday at 9 p.m. EST on Bravo.