NEWS
Demi Lovato Almost Hit Paul McCartney With Car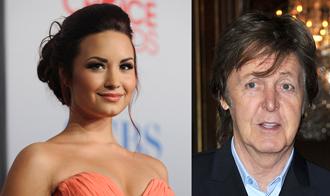 Wow! No catchy headline needed!
Late last night, "Skyscraper" singer Demi Lovato shared an unbelieveable story with the Twitterverse. She almost hit a Beatle! And we're not talking about the car.
Demi Tweeted: "So.... today I was pulling into a parking space that some guys were standing in the middle of, and almost hit them..... When one of the guys turned around.... it was a BEATLE........ Yes, YOU HEARD ME.... SIR PAUL McCARTNEY!!! He was so sweet!! Can't believe I met him today.. WOW! And.... I can't believe I almost ran over a Beatle....... :l"
Article continues below advertisement
So far, there is nothing about the incident on Paul's Twitter.
Drive safe, kids!