NEWS
Demi Lovato Opens Up About BFFs Miley Cyrus & Selena Gomez: "They Will Never Leave My Life!"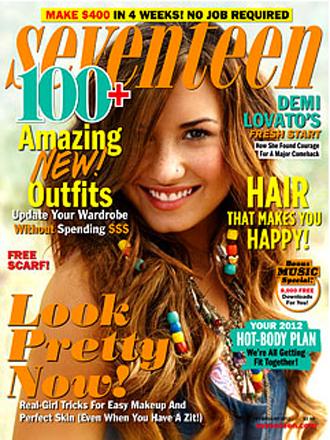 A little over a year after Demi Lovato entered a treatment facility to deal with "emotional and physical issues," the teen star admits that without the support of her best friends, Miley Cyrus and Selena Gomez, she isn't sure she would have made it through treatment.
OK! GALLERY: JUSTIN BIEBER RINGS IN THE NEW YEAR IN TIMES SQUARE!
But Demi also confesses that being besties with Miley isn't easy!
"No matter how many times we fight, we will always be in each others' lives," Demi, 19, tells Seventeen in the February issue. "Miley and I are very strong-headed, so when we fight it's brutal, and we're like, 'We're never going to be friends again!' Then two days later, we're like, 'I love you and I miss you!' "
Article continues below advertisement
On the other hand, Demi says Selena is anything but confrontational. "Selena and I, we never fight," Demi explains. "She's not a confrontational person at all." "Both of them will never leave my life no matter what happens," she adds of the fellow 19-year-olds, "because we've been through so much together."
OK! NEWS: DEMI LOVATO TWEETS DISNEY: "EATING DISORDERS AREN'T SOMETHING TO JOKE ABOUT!"
But Miley and Selena weren't the only ones helping Demi through her tough ordeal. Both Taylor Swift and Kim Kardashian supported the troubled star while she was in treatment.
"We're not super-close, but Taylor Swift tweeted 'Pray for Demi,' which I thought was really awesome of her," Demi confesses. "And Kim Kardashian, the busiest woman on the planet, took time to call me." Wow, Demi sure did have an amazing circle of supporters! That's probably why she feels more amazing than ever.
OK! NEWS: SELENA GOMEZ WANTS TO BE THE NEXT RACHEL MCADAMS!
"I don't drink, I don't do drugs, I don't throw up after my meals, I don't starve myself. There's nothing that I do that I feel ashamed of," Demi reveals. "I have so much to look forward to — from little everyday things, like where I'm going to go shopping with my friends, to big things, like heading out on the road on tour, or even really long-term things, like what my next big project will be."