NEWS
Demi Lovato Dishes on Being a Role Model; Pals Kim Kardashian & Selena Gomez "Proud"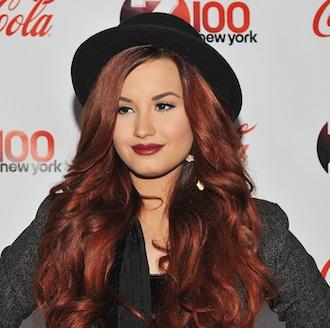 At just 19 years old, Demi Lovato has emerged as a role model for girls worldwide after publically struggling and overcoming an eating disorder and some of the pressures that come with being a young star in Hollywood. With "proud" friends like Selena Gomez and Kim Kardashian supporting her, the "Skyscraper" singer spoke to OK! on Wednesday afternoon about wanting to set a good example for others in similar situations and the importance of "speaking up" for herself.
Article continues below advertisement
OK! NEWS: DEMI LOVATO ARRIVES IN PUERTO RICO WITH RED HAIR & WILD NAILS!
"It's important for me to use my voice and experiences to help other girls through whatever problems they might be having," Demi revealed to OK! at Cleo restaurant at the Redbury Hotel in Hollywood for a luncheon celebrating her Seventeen magazine February cover.
After recently questioning Disney via Twitter about a joke made on Shake It Up regarding eating disorders, it's clear that Demi knows when to say what's on her mind.
Article continues below advertisement
But, to keep herself balanced in the meantime, Demi joked to OK! that her friends remind her to relax and, "to sometimes be able to turn off my cell phone."
And, since close pals Kim and Selena were unable to attend the intimate luncheon for Demi, the girls opted to have letters they wrote to her read aloud expressing how "proud" they are of how far she has come.
Friends since they were just 7 years old and growing up together as young Disney stars, Selena applauded the "role model" for giving her "courage," and gushed about Demi, "The amount of respect that I have for you is indescribable."
OK! NEWS: DEMI LOVATO IN LATINA MAGAZINE - "I'M GLAD I HIT ROCK BOTTOM WHEN I DID"
After completing rehab for her issues early last year, the former Sonny with a Chance starlet has emerged as an example to young girls by sharing her story.
"I want to say first how proud I am of you," pal Selena, dating "Never Say Never" singer Justin Bieber, explained in the letter, "You have gone through one of the hardest chapters in your life and I praise you for wanting to share that journey and walk away from it all as a better person. Thank you for trusting me and wanting me there during that hard time."