NEWS
Demi Lovato Dishes on her Weight Struggles & Breakdown on 'The Ellen Show'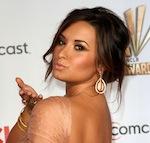 Actress and singer Demi Lovato has had a rough year dealing with the struggles of being in the spotlight and feeling a lot of pressure to be thin. After coming of out a treatment center a few months ago, the 19-year-old sat down with Ellen Degeneres to explain her issues and hopefully help other young girls.
"When I grew up I was dealing with the pressures to be thin. It was the time in the tabloids when very, very skinny girls were on the cover of every magazine and that's what I was looking up to," the Sonny With a Chance star explained via E! Online in an interview that is set to air this Tuesday on the Ellen Show.
Article continues below advertisement
OK! NEWS: JOE JONAS' EXES DEMI LOVATO & ASHLEY GREENE ARE TWITTER FRIENDS
Struggling with her weight and body image lead Demi down and "unhealthy" road, but finally caused her to breakdown and seek help. Now the star wants raise awareness to set an example for other young people dealing with similar pressures.
"There needs to be a role model out there, and for the first time in my life, I actually feel like one," Demi gushed to Ellen.
OK! NEWS: DEMI LOVATO LEAVES REHAB; FIRST STOP STARBUCKS?
Although the process of healing isn't easy for the Don't Forget singer, now Demi is in a good place and knows that if she didn't seek help, "I don't know if, one, I'd even be sitting here today."
Catch Demi's full sit-down interview on the Ellen Show Sept. 20.