NEWS
Selena Gomez Wants to Be the Next Rachel McAdams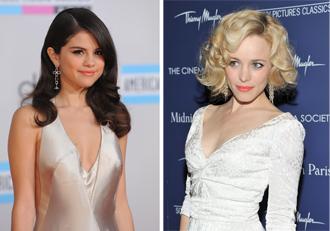 Selena Gomez has a lot of plans for the future. The singer and actress opened up recently about what she wants next for her career since her hit show Wizards of Waverly Place is coming to an end this Friday.
Selena tells Toronto.com that she'd "like my music career to keep growing, start a prime-time weekly sitcom and make dramatic films with some first-rate directors."
Big dreams for a Disney star. She knows this, too! She remarks, "Hey, I've been dreaming all along and look how far it's gotten me!"
Article continues below advertisement
OK! NEWS: JAKE T. AUSTIN TALKS THE END OF WIZARDS OF WAVERLY PLACE & ONSCREEN SISTER SELENA GOMEZ
She also says that one person whose career she really respects is Rachel McAdams. "I love the choices she's made and the way she seems to be playing out her career. I'd love to talk to her and figure out why she does what she does."
Selena's also not closed off to making a return to television at some point. "Working on Wizards made me realize what an impact a weekly show can have on building support for you as an artist. I'd love to be part of another ensemble series — something contemporary and kooky and funny and a bit romantic. Like Friends was back when it started."
OK! NEWS: RACHEL MCADAMS REACTS TO "FEMINIST ICON" RYAN GOSLING: "OH MY GOD, THAT'S GREAT!"
That doesn't mean the girl doesn't want to continue making films though. "The two directors I'd really like to work with the most are David Fincher and Martin Scorsese. A little crazy? Maybe, but I can dream, can't I?"
Of course she can! Selena also recently announced that her upcoming perfume will be sold at Macy's starting in May 2012. Her fans also helped choose what it smells like, and the results are in at her official perfume website.