NEWS
Demi Moore 911 Tape Reveals She "Smoked Something" & Was "Convulsing"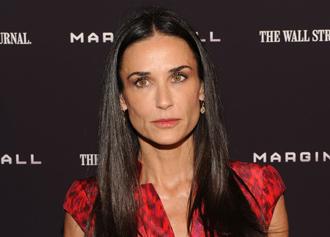 Article continues below advertisement
This would go with the reports that Demi had an epileptic seizure and was being treated at Sherman Oaks Hospital for anorexia and substance abuse.
"Some form of edited out and then she smoked something," Demi's friend says in the call. "She's been having some issues lately so I don't know what she's been taking and not telling us."
OK! NEWS: DEMI MOORE'S TREATMENT AT SHERMAN OAKS HOSPITAL ALREADY OVER?
Others can be heard in the background of the tape and then asks "Ru" for the phone number and gate code to let the ambulance in. Perhaps Demi's daughter Rumer Willis was at the house?
The dispatcher asks what she took and if it was an accidental overdose to which the caller says, "She smoked something but the reaction was accidental.
Demi was described as not breathing normally but "sort of shaking, convulsing to me, but burning up."
Article continues below advertisement
However, the 49-year-old actress was doing better when the ambulance arrived.
"Ok. She seems to be…she seems to have calmed down and is speaking…she is much calmer…" the caller says, "now she's breathing fine she's not convulsing she's talking fine, she's leaning up."
OK! NEWS: UPDATE — DEMI MOORE IN TREATMENT FOR ANOREXIA & SUBSTANCE ABUSE AFTER REPORTEDLY HAVING A SEIZURE
Demi's rep released a statement the following day saying, "Because of the stresses in her life right now, Demi has chosen to seek professional assistance to treat her exhaustion and improve her overall health."
Yesterday, E! News confirmed Demi had been released... coincidentally the same day her estranged husband, Ashton Kutcher, was returning home to L.A. from a trip.