NEWS
Demi Moore: Inside Her Overdose Nightmare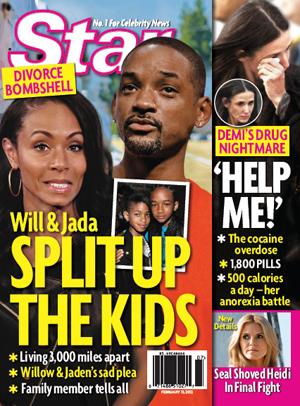 Demi Moore's panicked friend struggled to describe the actress' alarming condition during a 911 phone call placed from her Beverly Hills home at 10:45 p.m. on Jan. 23.
"She's kind of shaking, convulsing, burning up," the friend told the operator. After smoking an incense-like substance — possibly laced with powerful designer drugs — accompanied by hits of nitrous oxide or Whip-Its, according a source, Demi collapsed and was left incapable of communicating, except by squeezing her hand, the friend continued. "She can't speak.... she's convulsing, so we are holding her down!"
Article continues below advertisement
She plunged toward rock bottom after her husband of six years, Ashton Kutcher, 34, walked out on her last fall, when Star broke the news of his affair with party girl Sara Leal. Devastated that she could no longer sexually satisfy her younger mate, and with few big movie roles on the horizon, Demi grew increasingly depressed and insecure and began starving herself while popping pills and abusing recreational drugs, insiders reveals.
FOR MORE ON DEMI'S TRAGIC DECLINE, PICK UP THE NEW ISSUE OF STAR, ON SALE NOW!