NEWS
Derek Hough's DWTS Blog: Dancing to a Perfect Score in Paso Doble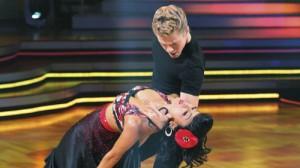 Dancing With the Stars pro Derek Hough has teamed up with OK! to update you every week as he attempts to turn his partner Nicole Scherzinger into a ballroom champion!
Hi, everyone, and welcome to my OK! Dancing With the Stars blog!
Well, on week eight, Nicole and I were extremely proud of our two dances — the foxtrot and the 1950s style Paso Doble. As you saw on TV, we got a score of 29 for the foxtrot and a perfect 30 for our Paso, and we couldn't be happier. This is the time in the show where you have to go all out; we were determined to deliver two great dances and we achieved that. Nicole has put down strong performances week after week but Monday night, it was important for us to really set an artistic standard.
Article continues below advertisement
The funny part is, although our Paso caused more of a sensation, I was much more comfortable with the foxtrot in rehearsals. Immediately when I heard the song we were given, "Haven't Met You Yet," I was like, this is going to be fun. Already, I saw a story in my head; it was instant. When that happens, you always know it's going to be good — or at least, you're going to enjoy it.
I saw a vision in my head immediately for this foxtrot and Nicole gave me her input, too. It was Nicole's idea to have us reading newspapers to start the dance. We played out the theme of two strangers who don't know each other but then look at each other and instantly fall in love. Through the whole dance, we're desperately in love with each other. I felt it was very Gene Kelly over the top. Then, at the end, we sit down and we still haven't met each other yet — it was all in each other's heads.
Article continues below advertisement
When I first heard the concept for our second dance, a 1950s style Paso Doble, I thought, are you trying to sabotage me? What's going on here?! For the 1950s, you usually think of something fun and light, not dark and fiery, as the Paso usually is performed. I was like, I don't get it. I decided let's just do a Paso, and then I'll add little touches in there to make it say the 1950s.
OK!'S DWTS WATCH: JAKE PAVELKA STUMBLES OFF THE DANCE FLOOR
What really made it happen, I think, was the look. When Nicole came out with the wig and the rockabilly '50s look, not the poodle skirt look, that's what really put the right image in my mind. She looked phenomenal! As far as my look, I think my '50s pompadour hair with black tee shirt and black jeans is my favorite costume I've ever worn on DWTS. The look is just easy. Believe it or not, I hate wearing all the sequins, even though it's part of my job. I would love to just wear jeans and a nice shirt for all my dances instead.
Article continues below advertisement
Although the judges gave us a perfect score in the Paso, it wasn't completely clear sailing. As I've told you before, there's always little bobbles the judges don't point out and the viewers might not notice. In the Paso Doble, Nicole was a bit upset because there was a part we had been practicing over and over again. But during the live dance, wouldn't you know it, it was the only place where we messed up. When we got the perfect 30, Nicole was in awe. She was kind of dumbfounded — what just happened? And I was like yelling in joy, "AAAAh!" Nicole was like, "I just blacked out for a second. Who am I?" It was really funny!
DEREK HOUGH'S DWTS BLOG: WALTZING TO A HIGH SCORE
So, everyone is talking about Nicole crying in rehearsal after that footage was shown on DWTS Monday night. A lot of times I lose my temper and get upset in rehearsal, but you don't see that because producers want to focus on the celebrity. Most of the time, Nicole is the funniest girl I know and we have a blast and then for a short moment it's a little too much for her — and then that's the ENTIRE story on TV. They only want to show the tears because it's more dramatic. But we hope to prove to viewers how much fun we're having. After all, we wouldn't be doing so well on the show otherwise!
Article continues below advertisement
The truth is, though, I want to cry right now because I'm so overwhelmed. It's week eight and there is so much pressure. I don't think people fully know how many hours we're putting in. For example, on Wednesday, we practiced from 11 a.m. until 3 p.m. and we felt like we didn't achieve enough, but Nicole had to go record for an upcoming album.
She came back to the studio after her other work obligation and we rehearsed more, from 9 p.m. to midnight. Then the next day, on Thursday, we started again at 8 a.m. She's burning the candle at both ends. Somehow, though, she always shows up and never once have I heard her say she's tired. Nicole is an incredible partner.
Next week we'll have to dance Cha-cha and Argentine tango. I think it should be fun. We've got two good songs, so we'll see how it goes.
Thanks for all your votes and talk to you soon!
Derek