NEWS
Derek Hough's DWTS Blog: Waltzing to A High Score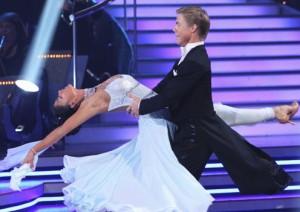 Dancing With the Stars pro Derek Hough has teamed up with OK! to update you every week as he attempts to turn his partner Nicole Scherzinger into a ballroom champion!
Hi, everyone, and welcome to my OK! blog on the seventh week of Dancing with the Stars competition!
Nicole and I tied with Evan Lysacek and Anna Trebunskaya in the total score for the two dances on Monday night and I couldn't have been more proud of my partner. To be honest, though, when I first heard we were going to waltz to the song "You Light up My Life, " I was like, oh, man, cheese city! But I found out Nicole was excited about it because it was her aunt's favorite song. It gave Nicole an opportunity to fly her family out and for her aunt, who has Down's Syndrome, to watch and enjoy. As with all the couples on the show, during breaks, we get to talk about ourselves and I learned how much she cherishes her aunt. It was a really special moment to share with Nicole when she realized how much her aunt loved the performance.
Article continues below advertisement
OK!'S DWTS WATCH: PAMELA ANDERSON TO HANG UP HER DANCING SHOES
With the waltz, we were aiming for a very simple, very pure dance. I loved our last move that we did — with her leg extended way out. Nicole did an amazing job. I threw three extra turns in to make up for a little slip up we had early in the dance. After we had the bobble, I decided to milk the last part of the waltz for all it was worth and leave the best impression in the viewers' minds. Although it wasn't perfect, we were very happy with the way it turned out.
OK!'S DWTS WATCH: OLYMPIAN EVAN LYSACEK TANGOS TO THE TOP SCORE
For the group cha cha dance, Cheryl Burke and I were giggling to each other because we're like, we're done practicing our solo dance — we really want to win the team dance! We all had so much fun working together as a group. It wasn't one of those stressful team dances where people collide. I was really proud of Pam, Chad, and Nicole for stepping it up and keeping up with all us pros.
Article continues below advertisement
Nicole had never done a cha cha before on the show but luckily, we'd done a rumba and the rumba is essentially the cha cha sped up. She had the footwork and legwork intact from the rumba and then we went from there and gave it different timing. If we make it to week nine, we'll do another cha cha.
OK!'S DWTS WATCH: JAKE PAVELKA STUMBLES OFF THE DANCE FLOOR
Footage aired on DWTS seemed to show us squabbling, but honestly, Nicole and I get along famously. If we ever get into an argument, it's for a hot second. It's over in a flash. But it is true, as it said in the TV package, that sometimes I forget to encourage her. She's doing so well and I forget it's new to her and she's as scared as everybody else. Sometimes I'm like no, no, no and she's like, am I doing anything right? But now I understand and we're all good.
Monday after the show, I texted Cheryl a happy birthday, then caught my buddy Mark Ballas' concert at The Mint. It was an awesome show, and then I went straight home to bed and was asleep by 11:30. Going out isn't my thing anymore — I'm definitely a homebody.
OK! EXCLUSIVE: HOW BROOKE GOT HER INSPIRING BIKINI BODY
On Tuesday night, I was so sorry to see Pamela Anderson get eliminated. I worked with her on the team cha cha dance and she was so much fun, so willing to give it her all.
Article continues below advertisement
I think America got to see a different side of Pam — she's very witty, sweet, and sincere. That's one of the strengths of DWTS, showing fans something new about all the celebrities' personalities.
Next week is going to be my toughest challenge yet. We're dancing foxtrot, which should be okay, but we have a second dance, the Paso Doble, which is already giving me headaches. You might remember that last year, model Joanna Krupa and I performed a futuristic Paso Doble that got raves from both judges and fans. This year, I've been assigned a 1950s style paso and I don't have a clue yet how to choreograph it! I'm starting completely from scratch. I don't know what a '50s paso should look like.
DEREK HOUGH'S DWTS BLOG: SAMBA SUCCESS
At this point in the competition, I'm exhausted both physically and mentally. I get to thinking, how many more routines are left in me? How much more can I come up with—is there anything left? It's exhausting but this is what it all comes down to in trying to get to the finals.
Thanks for all your votes and talk to you next week!
Derek