NEWS
'Desperate Housewives' Creator Mark Cherry Admits In Court That He Hit Nicollette Sheridan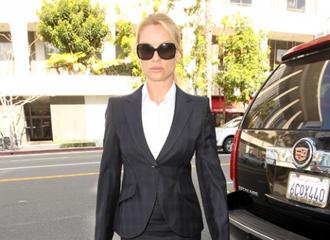 Sounds like the truth is coming out during Nicollette Sheridan's wrongful termination trial in Los Angeles, Calif., this week. Nicollette, who claimed that Desperate Housewives creator Mark Cherry hit her in the head during a rehearsal for the show, is in court fighting for $6 million and claiming that she was never told she would be killed off the ABC show, which is in its final season.
OK! GALLERY: NICOLLETTE SHERIDAN SUITS UP FOR HER DESPERATE HOUSEWIVES FIRING TRIAL
Article continues below advertisement
In court, Nicollette testified that Mark gave her "a nice wallop" in the head on Sept. 28, 2008, but he said yesterday that he simply "tapped" her and only did so to demonstrate a part of a scene and to "get my point across."
Since Nicollette's character Edie was killed off the show, many have heard about the alleged smack, which Nicollette's considers abuse, even though Mark swears he was only instructing her for a scene.
"It was humiliating," Nicollette told the jury last week. "It was demeaning. It was unfathomable to me that I had just been hit by my boss." Mark said that he felt he had "permission," as her boss, to be in contact with Nicollette.
OK! NEWS: NICOLLETTE SHERIDAN CLAIMS MARCK CHERRY IS "ABUSIVE AND APPALLING"
Mark also testified that he had three reasons for killing off Nicolette's character — creatively it was the right thing to do, it was a cost-cutting decision, and there were complaints about Nicollette's on-set behavior. He even acknowledged that there wasn't any documentation about the actress' alleged bad behavior, which included claims of tardiness, forgetting lines and treating a prop person rudely.