NEWS
Diane Warren on Justin Bieber's 'Never Say Never': "Best Concert Movie I'd Ever Seen"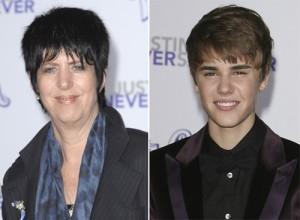 Article continues below advertisement
How did her collaboration with Justin for his film Never Say Never originally come about? Over dinner!
"The way it came about was I was at dinner and my friend, who is head of music at Paramount, was with Justin's manger and they came to my table. It was just random," Diane explained to OK!. "They said we need like an 'I Believe I Can Fly' for this movie. Soon after that, I hired the same lawyer that is Justin's lawyer. It kind of fell into place. They loved the song and 210 million YouTube views later. I mean, YouTube is like radio for those kids. I think the song is going to become a little classic."
Diane loved the film too, although she was a little hesitant at first about it.
"Yeah. I love that movie!" she said. "I love how the song was used. It was like all the videos of him growing up and it was just such a great use. I love the movie. Honestly, I thought it was the best concert movie I'd ever seen."
"When I first heard the song and I hadn't seen the movie, I went to the premiere and I was like, 'Oh, I have to sit through this?' But then it was like, I wanted to see more!" Diane explained. "It really broke down how he broke out of YouTube and what a hardworking kid this is, and there were moments where I cried. Like, where he saw that little girl outside the theater where he used to sing. It was so sweet. It was just such a moment. Seriously, it was a great movie."
Article continues below advertisement
Does she think Justin can keep his success up? The answer is yes!
"If he keeps his head on his shoulders, his talent will take him there," she said. "He's super talented. He's a hardworking, talented kid. We've seen stuff happen to other kids, but I think he's going to be okay. He has people around him who are really good for him. As long as he maintains that, he's unlimited, really."
OK! VIDEO: WATCH JUSTIN BIEBER & SELENA GOMEZ KISS AT BILLBOARD MUSIC AWARDS
What's next for Diane? Working with everyone!
"Everything from Akon to Mary J. Blige, to hopefully Aerosmith again, to Mike Posner."
She also just finished executive-producing Kristin Chenoweth's new album.
"She's really a country singer. She's from Oklahoma. That's who she is. It was my idea to tap into that," she explained to OK!. "I saw her on Glee doing a Carrie Underwood song; I was like, 'Wait a second. You're a great singer. You're from Oklahoma, like Carrie Underwood. Lets make you her big sister. Her album is fantastic. I think people are going to love it.' "
You can see Diane on HSN on June 2 at 11 p.m. ET with her new duo Due Voci, when they present Due Voci: The Music of Diane Warren for a live one-hour prime time special of her greatest hits.