NEWS
Dina Lohan: Ali Doesn't Even Know Frances Cobain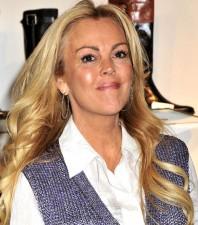 After Frances Bean Cobain ripped into fellow famous face Ali Lohan, calling her "entitled" and ranting that she lacks "the talent, social understanding and credibility to be anything other then infamous," Dina Lohan says her daughter doesn't even know Frances.
"Ali has no idea what that's about," Dina told OK! during the LoveMyShoes.com event in NYC Thursday. "She's probably a wonderful little girl," she adds of Frances, the only daughter of Kurt Cobain and Courtney Love.
Article continues below advertisement
"We just fly under the radar. You can't engage with someone who's saying something that you've never met," Dina says of how her kids take criticism.
"She doesn't know us, and I've never met her," she adds. "I'm not going to judge her. I don't know her mother. I've never met them, so I'm certainly not going to say anything about anyone I've never met. That's just silly."
Frances apparently took issue with Ali after learning that she'd released a Christmas album way back in 2006.
Reporting by Valerie Nome