NEWS
Dina Lohan Fights Engagement Buzz, Lindsay's Critics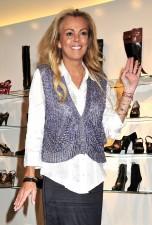 Dina Lohan's ring finger is aflutter during a Lovemyshoes.com event held Thursday at NYC's Marc Fisher showroom, setting off speculation that she is set to wed.
The reality mom, who likens her relationship with her daughters to "a lioness and cubs," also defends Lindsay's low-rated Emanuel Ungaro fashion line, and explains why her oldest starlet was born to design.
While strapping on an open-toed blue boot shoe-store style, Dina gets embarrassed and takes the footwear into the hallway – lest we see her less-than-perfect pedicure. I can't help but notice the light catching a serious piece of ice on her left ring finger.
Article continues below advertisement
Hm, is she engaged?
"No," the divorcee, 47, laughs, shocked. "Where's the guy? Do you know him? Because that'd be great. Do you have someone?"
Well, typically, in the U.S., a diamond ring on the left hand means one is betrothed…
"Lindsay actually designed this ring," she explains to me. "She's designing jewelry, and she put this on my finger. We have a thing – when my girls leave the airports and we leave each other, we put things like a Kabbalah bracelet or the Eye of the Blessed Mother on each other. So she put this on me the last time she left. She designed this ring, and this necklace as well. And I gave her what I was wearing. It's like a family thing to fly safe. Ain't it corny?"
Jewels aren't the only things the Lohan ladies share. They also wear the same shoe size – 8 ½-9.
"Some of the shoes Lindsay gives me, I go 'I can't wear those. I'm a mom. They're a little cheesy,'" she says. "They're really high heels that only a 23-year-old can get away with. Ali is taller than Lindsay, so she wears flats a lot. She doesn't want to feel weird or show off because she's tall."
Lindsay and Ali will both help their mom on the design front for the under-$100 brand that will include footwear for soccer moms, juniors, teen-tweens and clubgoers. Dina's shoe line will likely hit shelves in time for Mother's Day, but the name is up for grabs.
Article continues below advertisement
It will not be called Shoe-han despite reports, so don't go purchasing the name online, she cautions.
How is Lindsay coping with the biting remarks after her Emanuel Ungaro line debuted Oct. 4 during Paris Fashion Week?
"It's silly," Dina tells me. "Lindsay's just going to keep doing what she's doing, and it will sell. I know it because I know Lindsay's genius in what she does and girls love her. My friend runs FIT, and she said 'Dina, I was surprised. We asked a question – Who do you admire most as a fashion icon?' And they said Lindsay. She was almost shocked because of all of the negative press."
She continues, "Kids don't care. I used to tell Lindsay 'when you're on a talk show, be yourself.' Because you can tell as a person if someone's b.s.-ing you or not. If you're honest, you're going to be honest. People will read your body, and they'll know what you're saying, so we just roll. I don't really care."
Dina admits that Lindsay's always had a passion for fashion.
"Lindsay's been cutting up clothing since she was three," she says. "We used to call her 'Bag Lady' when she was little. She would have little pocket books. She's so genius at fashion that I can't even explain."
Despite the hard knocks both Lindsay and Ali have faced, Dina is certain that her family is on the right track.
"We've been through a lot that kind of sucks, but we're going to keep moving forward," she says.
And now for a photo of Dina and I. She's refreshingly open, and answers everything.
Dina is a spokesmodel for lovemyshoes.com.