NEWS
DJ and Host Amanda Seales on the Suprising Song That Made an Entire Paris Club Go Crazy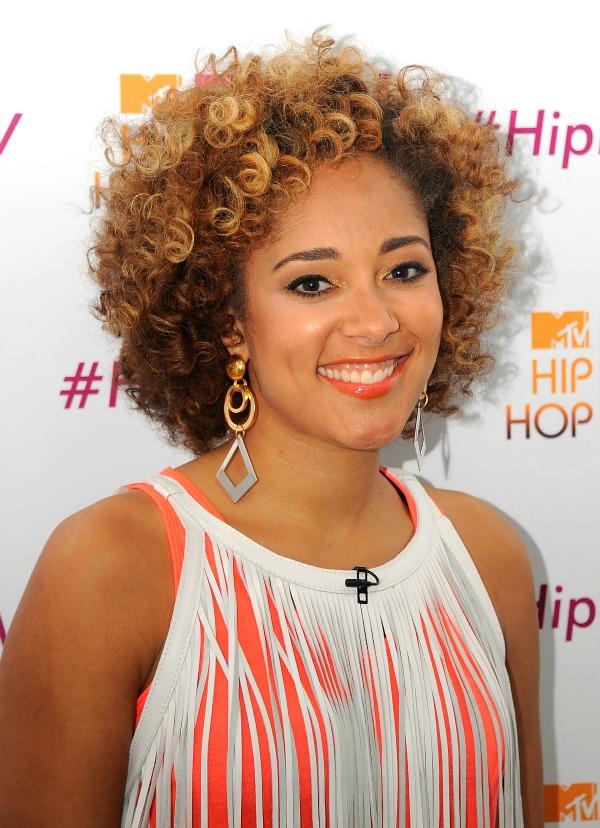 The OK! offices are buzzing today as the OK! So Sexy party is happening tonight! We talked with Amanda Seales, host of Smirnoff's Master of the Mix on VH1 who will be DJing the party with Kid Capri. She gave us a preview of some of the songs she'll be spinning, tips for dressing for such a sexy event and and why she was so late to the "Call Me Maybe" party.
Article continues below advertisement
OK!: You're DJing the OK! So Sexy party, what immediately pops into your head as far as songs go, like "This is definitely gonna get played."
Amanda Seales: Well definitely anything Prince. Prince "Kiss" is definitely getting played. "Suit and Tie" you know, Justin Timberlake brought sexy back and then he managed to bring it back again fully clothed, in a suit and tie! On the ladies side of things, as a rule I always play Madonna when I think sexy, so you can play "Dress You Up In My Love" you can play "Material Girl", "Like A Virgin". It's sexy, it's Madonna, it makes sense.
OK!: How do you plan an outfit for a So Sexy party because you want to look hot but you also have to be able to get down?
AS: Well I'm a big fan of leggings. If I wear a skirt, of course you know you look fabulous but you can't really dance the way you want to dance without maybe attracting some attention that you don't want to attract! However when you wear leggings it's like you're still getting sexy, you're still showing shape but you have the freedom to get into the groove and do your thing without accidentally flashing someone.
Article continues below advertisement
OK!: You can drop it to the floor in those.
AS: Yeah if dropping it to the floor is what you do, then leggings are what you should wear.
OK! News: Are you ready for Cinco de Mayo?
OK!: What's your go-to song that not even the snooty people can resist? This is the song that people have to put the drink down and get up and dance to.
AS: Michael Jackson "Don't Stop Till You Get Enough". Without fail. Every time, nobody can resist it. Once he goes "Whooo!", everyone's like "Exactly!"
My goal when I DJ is to, at as many points in the night make someone go "Ohhh!" that's my goal. I just want to take you to a place where you involuntarily say "OHHH!"
Photos: Celebs wear their best shades
OK!: What was a song you were surprised people were into? Like you couldn't believe the reaction to it.
AS: Actually it's random but I was in Paris recently and the DJ played Eve "Who's That Girl" and let me tell you. The whole room was like "la la la la la laaa la la la la laa!" I was like, "this is surprising!" It's a cool song but I've never seen a room erupt to that song and the Parisians were all about it. Oui oui!
Article continues below advertisement
OK!: "Tambourine" is another one that will sneak up on you.
AS: "Tambourine" yes, that is another one. It's the beat that really ends up getting you.
Watch: What do Anne Hathaway and Rihanna have in common?
OK!: What song were you super late to the game with, that other people were telling you about and you had to catch up?
AS: Carly Rae Jepsen "Call Me Maybe." I was like, I don't get it. People would be saying it as an inside joke and I was like I don't get it. And then I was on Buzzfeed and they had like all of the "Call Me Maybe's", how everyone and their mother made a video, and I was like "Oh this is a song! That's what everybody's doing." At the time, I was shooting Hip Hop POV for MTV and usually I check playlists and look at Billboard, and I didn't have time to listen to the radio. I was shooting that show and didn't have time to do my usual research and I was thrown off. I just kept hearing this and it was definitely #latepass but I got on board and I was better for it.
OK!: What is research for you?
AS: On weekends if I get free time I will make it my business to go on Pitchfork and see if they posted new songs and I check the New York and LA radio station playlists. But the number one research tool for me is when I tweet people and say "What are the songs that you're loving right now?" and those responses are definitely the best source of research. People make it their business to respond because they gather, well if you're asking… then there's their chance to be unique and make their mark.
Article continues below advertisement
OK! News: Leonardo DiCaprio talks Great Gatsby music!
OK!: And how has it been hosting Smirnoff's Masters of the Mix on VH1?
When we were shooting Masters of the Mix, I was the host and some people expect the host to just stand there and listen but for me I love music and I'm also a DJ so when these DJs that are so phenomenal are spinning their hearts out, it's impossible for me not to dance. So when you're watching the show if you glance to the left you'll see me, Getting. Down. Every episode. There could be an entire online footage segment of "What dance is Amanda doing tonight?" Hosting the show was also super fun not only as a host but as a DJ because I was learning while I was hosting.
You can catch Smirnoff's Masters of the Mix on VH1 Monday nights at midnight, and for more from the OK! So Sexy party stay tuned to OKMagazine.com.
What song makes you say "Ohhh!" when you hear it while dancing? Tell us in the comments below or on Twitter @OKMagazine.