NEWS
Dominic Monaghan Calls 'Lost' Co-Star Matthew Fox a Woman Beater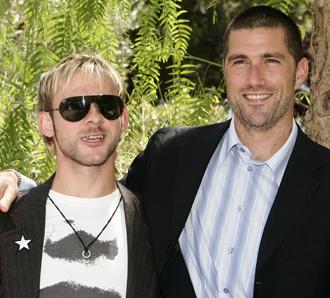 We know someone who won't be getting a Christmas card from the Fox family this year!
OK! NEWS: MATTHEW FOX ACCUSED OF HITTING A WOMAN IN THE CHEST AND STOMACH AREA
Former Lost co-stars and presumed friends, Dominic Monaghan and Matthew Fox, must have had a massive falling out. This weekend Dominic publicly accused Matthew of being a woman-beater on Twitter.
It all started when a woman with the handle @omggbeccaa (who identifies herself as "addicted to Lost") Tweeted at Dom asking him to nudge pal Matthew onto Twitter. Dominic Tweeted back, "he beats women. No thanks."
Article continues below advertisement
The fan assumed Dominic was referring to Matthew's scuffle with a female bus driver this past August, where the actor was accused of punching a woman in the pelvis area. The charges were filed but eventually dismissed.
When @omgbeccaa responded asking, "what about the good times," and acknowledged hitting the woman was wrong, Dom didn't back down and replied insinuating there weren't any good times and that Matthew beats women "often. not isolated incidents."
When other followers cautioned him that slandering the star online might lead to legal problems, Dom replied, "it's very difficult to sue someone for speaking the truth. Have you received an education dear?"
OK! NEWS: MATTHEW FOX ARRESTED FOR A DUI
Matthew Fox found himself in trouble a month ago when he was arrested for a DUI in Oregon, where he lives with his wife and children. He has yet to respond to Dominic's claims.
What are your thoughts? Was Dominic out of line, or do you believe the accusations?