NEWS
Donald Trump Fires Back at Bill Cosby: "He's Obviously an Obama Fan"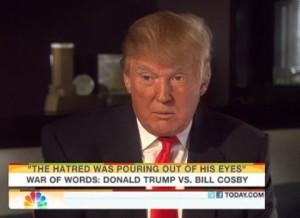 The war between Donald Trump and Bill Cosby is on — in full force! Bill appeared on the Today show and told Donald to either "run or shut up" and now Donald is firing back with a statement in response.
OK! NEWS: BILL COSBY ON DONALD TRUMP RUNNING FOR PRESIDENT — "HE'S FULL OF IT"
In a previous interview on Today, Donald explained that he could not officially announce his candidacy for president in 2012 until the current season of The Apprentice was over.
Article continues below advertisement
During an interview with Meredith Vieira, Bill said not only said that Donald should "run or shut up" but added, "Oh, please, with Donald Trump, take him home with you!"
Meredith asked why and he responded, "Because he's full of it."
And now Donald is full of some strong words for Bill.
"I was surprised to hear him blabber, somewhat incoherently, 'you run or shut up,'" Donald wrote in a statement (via Today). "The hatred was pouring out of his eyes."
"If he doesn't want me to run because he's obviously an Obama fan, he should state the reasons and not come into my green room in front of numerous witnesses and treat me like his best friend," the statement continued.
OK! NEWS: WATCH WHOOPI GOLDBERG LASH OUT AT DONALD TRUMP OVER OBAMA'S BIRTH CERTIFICATE
And Donald says he thought he was friends with Bill.
"Every time I met him, he was always so nice, saying, 'Let's get together' — asking me out to dinner, and being polite to the point of offering to buy me a suit because he has a 'great tailor,' " Donald wrote.
"Sadly, Cosby got more attention talking about me than he did on the merits of his own appearance — maybe he is not as dumb as I thought."
Watch Today's report below!