NEWS
Donald Trump Responds to Robert De Niro: "He's Not the Brightest Bulb On the Planet"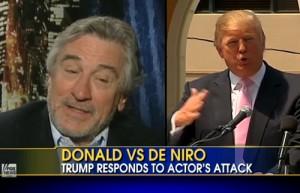 Donald Trump appeared on FOX News Channel's FOX and Friends Monday morning and responded to Robert De Niro's recent criticism of him on the birther issue.
OK! NEWS: ROBERT DE NIRO SPEAKS OUT AGAINST DONALD TRUMP — "HOW DARE YOU?"
"I won't mention names, but certain people in the news the last couple weeks, just, what are they doing?" Robert asked Brian Williams at the Tribeca Film Festival over the weekend (via Movieline). "It's crazy. They're making statements about people that they don't even back up. Go get the facts before you start saying things about people."
Article continues below advertisement
"Well, he's not the brightest bulb on the planet," Donald said. "I have been watching him over the years and I like his acting but in terms of when I watch him doing interviews and various other things, we are not dealing with Albert Einstein."
"He can say what he wants but the fact is this guy Obama has not revealed his birth certificate," he added. "A lot of people agree with me. With all that I do, what I do best is China, jobs, OPEC. That's what I do best, that is going to be my strength. It is my strength and I really understand it."