NEWS
Don't Pardon Her French: Rihanna Sets the Record Straight on New Tattoo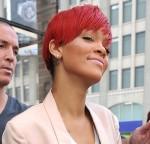 After photos appeared of Rihanna's new tattoo — which reads "Rebelle Fleur" — Internet pedants claimed that it was "gibberish" because she got the French phrasing wrong.
Au contraire, says Rihanna.
While Gawker.com argued that, since the adjective usually comes before the noun in French, the phrase that was inked on RiRi's neck last week should say "Fleur Rebelle."
Article continues below advertisement
But in a text message that she sent to her tattoo artist Keith "Bang Bang" McCurdy — which has been leaked exclusively to OK! — the "Rude Boy" singer says that the tat is right on the money.
She even predicted that the press would try to call her out on it!
She wrote: "rebelle fleur translates to rebel flower, NOT rebelious flower, its 2 nouns so in that case fleur does not HAVE to be first! Fyi, cuz they will ask".