NEWS
Double the 'Real Housewives of Beverly Hills' Love: Bravo Brings the Finale and Reunion Part 1 on the Same Night!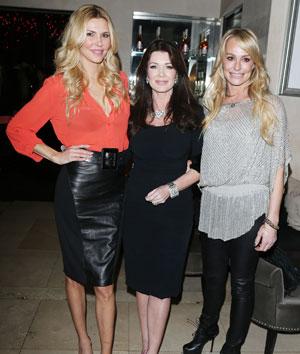 March 25th could very well conquer all Bravo Monday's that have come before. The channel that brings you the Real Housewives franchise is giving their loyal fans a double play of Beverly Hills goodness.
Monday, March 25th will begin with the series finale of The Real Housewives of Beverly Hills. The show is supposed to be a good one, with Lisa's housewarming party and vow renewing ceremony taking place in the same episode. There's no need to wonder if drama will ensue—we're talking about The Real Housewives of Beverly Hills finale, people.
Article continues below advertisement
Right after the series finale ends, Bravo will present part one of the event that every Housewives fan looks forward to—the reunion. Who is excited to see all the talk between the girls and Andy?
Check out a sneak peek below!
If you want to catch a glimpse of Brandi before The Real Housewives reunion on Monday, take a trip over to OKMagazine.com and watch her live in the Brandi Glanville OK! Google+ Hangout.
Brandi will be answering questions about her new book, Housewives and more! Tweet @OKMagazine using the hashtag, #OKBrandiLive for a chance to get your questions answered!
The event will kick off on Wednesday, March 20th at 2 pm ET.