NEWS
Dr. Conrad Murray to Claim Michael Jackson Self- Administered Propofol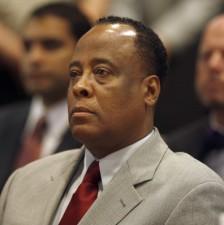 Dr. Conrad Murray, accused of administering Michael Jackson with a dose of Propofol that ultimately killed him, plans to defend himself in court by claiming that the iconic pop star gave himself the medication.
Michael's doctor and his legal team have come up with a detailed defense approach that outlines the day of the singer's death, according to TMZ.
Dr. Murray will claim that he gave Michael, who already had Ativan and Versed in his system, 25 mg of Propofol at 10:50 AM to help him sleep and stayed in the room talking to his girlfriend on the phone.
Article continues below advertisement
CONRAD MURRAY CLAIMS MICHAEL JACKSON WAS ALIVE AT MEDICAL CENTER
After leaving at noon to use the restroom, the doctor will assert that when he returned he found Michael not breathing and began CPR.
The defense will argue that Michael awoke while Dr. Murray was gone and self- administered the remnants of the 20 ml bottle of Propofol to himself, causing heart failure.
MORE ON:
Dr. Conrad Murray
An empty container of Propofol found under Michael's nightstand by the L.A. County Coroner's office will be used as evidence that the legend injected it into his IV and then dropped the bottle.
At this time, Dr. Murray's attorney Ed Chernoff did not comment on the strategy to TMZ.