NEWS
Bail Set at $75K for Dr. Conrad Murray in MJ Homicide Case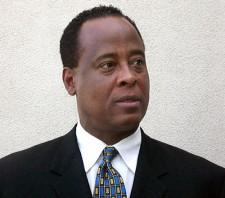 UPDATE: Dr. Conrad Murray plead not guilty in court today against charges of involuntary manslaughter. The medical board filed a motion to have the doctor's medical license revoked, TMZ reports. Bail was set at $75,000, and the judge ruled that Dr. Murray can't be in possession of or prescribe anesthetics. "I do not want you sedating people," the judge said at the hearing via reporting from TMZ.
The $75,000 bail is three times the standard amount for cases of the same nature, TMZ reports. Dr. Murray surrendered his passport and was taken into custody for booking at the courthouse.
Article continues below advertisement
Dr. Murray exited the courtroom without handcuffs, and his lawyer followed behind him with a bail bondsman who posted $25,000 bail.
The L.A. District Attorney wanted bail set at $300,000. Murray's attorney objected saying his client is "not a flight risk," according to TMZ.
Dr. Conrad Murray arrived for his hearing at around 1 p.m. PST. MJ's family — Katherine, Joe, Jermaine and La Toya Jackson — arrived at the Airport Court in L.A. for the arraignment a half hour prior to Murray.
Protesters (MJ fans) harassed Dr. Murray on his entrance into court, calling him a "murderer."
Fans protested with posters and sang MJ songs like "Man in The Mirror" outside the courtroom as they awaited the verdict.
Earlier today, Dr . Murray was officially charged with involuntary manslaughter in the MJ homicide case.
According to the criminal complaint obtained by TMZ, the D.A. alleges Dr. Murray "did unlawfully, and without malice, kill Michael Joseph Jackson ... in the commission of an unlawful act, not a felony; and in the commission of a lawful act which might have produced death, in an unlawful manner, and without due caution and circumspection."
Article continues below advertisement
The Sheriff's Department has had its security plan in place for a while, in part because of crowd control concerns and partly because of security issues surrounding Dr. Murray.
There are reportedly fears about Dr. Murray's safety because of the intense feelings on the part of some fanatic MJ fans.
Dr. Murray was with MJ at the time of his death and administered the drug Propofol to the King of Pop just before he died.