NEWS
Drama Alert! American Idol's Top 24 Switcheroo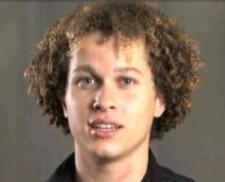 If you've been reading up on all the American Idol spoilers out there, chances are you might be a little surprised that apparently everything didn't go down as planned. The AI fan sites are buzzing today with the report that one contestant, Chris Golightly, originally made the Top 24 but was then replaced by Tim Urban, over concerns regarding a previous recording contract.
If a contestant on Idol already has a contract, they can be deemed "ineligible" for the competition, as reaching the goal of a record deal is the premise of the show. This, ostensibly, is the reason Chris got the boot.
Article continues below advertisement
One popular fan site, JoesPlaceBlog.com, shows a screengrab that includes Chris in last night's episode, adding that later when the Top 24 are shown individually, Chris disappears.
OK! NEWS MEET THE AMERICAN IDOL FINAL 24
The site also has posted a Facebook message allegedly from Chris, who explains that the document releasing him from his prior contract, which expired the month before he auditioned for Idol, was missing, then found. By the time it was located, he says, it was too late, and he'd been axed from the show.
Stay tuned to see if Chris will return — we know Idol is no stranger to drama!