NEWS
Meet the 'American Idol' Final 24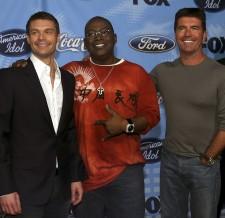 Last night was filled with joy for some and sadness for others as Simon Cowell, Kara DioGuardi, Randy Jackson, and Ellen DeGeneres announced the final 24 contestants — 12 girls and 12 boys — on American Idol.
Janell Wheeler, 24, from Tampa, FL burst out of the theater doors to Ryan Seacrest and pronounced, "If I was Bikini Girl, I'd kiss you right now," report ET Online.
Article continues below advertisement
Lacey Brown, 24, who returned after failing to make it through last year impressed the judges with her rendition of "What a Wonderful World".
Unfortunately, other repeat hopefuls weren't so fortunate. Angela Martin was sent home after trying out a third time.
OK! NEWS: KRIS ALLEN RETURNS TO IDOL TO GIVE BACK
The mother of a special needs daughter, Angela had to pull out of her first attempt because she received news that her father was killed. On the second time, she had to serve six days in prison for a traffic violation.
Kara sat next to Angela on the couch to console her as she delivered the news that she had been struck out for a third time. The judge said, "You are a star no matter what. You are one of the bravest people I ever met."
OK! NEWS: A SMITTEN SIMON COWELL CONFESSES HE'S MET "THE ONE"
Angela accepted the rejection with stride, saying, "I can't give up. That's not an option. Music heals me."
Meanwhile, delighted Connecticut teenager, Katie Stevens, declared: "I want to make my Grandma proud." Her grandmother is suffering from Alzheimer's. She added, "I always dreamed about this, but never in a million years did I think that out of 110,000 people that I would be standing here."
Article continues below advertisement
OK! NEWS: NICK LACHEY IS TOO NICE TO BE IDOL JUDGE
The two dozen continuing on to next week are Didi Benami, Crystal Bowersox, Lacey Brown, Michelle Delamor, Katelyn Epperly, Siobhan Magnus, Paige Miles, Ashley Rodriguez, Lilly Scott, Katie Stevens, Haeley Vaughn, Janell Wheeler, Lee Dewyze, Andrew Garcia, Tyler Grady, Todrick Hall, Casey James, Aaron Kelly, Alex Lambert, Michael Lynche, Joe Muñoz, John Park, Jermaine Sellers, and Tim Urban.
On Tuesday, Feb. 23 the girls take the mic, then the boys duke it out on Wednesday, Feb. 24. The first live results show will take place on Thursday, February 25 on FOX, as two more girls and two more guys are sent home.