NEWS
Drew Barrymore Brings More Love to Her Life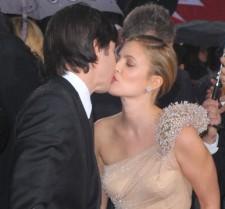 Drew Barrymore has a lot to be smiling about right now. She recently won a Golden Globe for Best Actress in a TV Movie or Miniseries, made her directorial debut with her film Whip It! and is completely smitten with Justin Long! Drew chatted with Self magazine about her recent successes and her thoughts on Valentine's Day!
OK! NEWS: GET DREW'S FRESH WINTER LOOK
Drew had many reasons why she wanted to make her directorial debut, but the best part was feeling she finally expressed herself in a film.
Article continues below advertisement
"Just being able to convey my own human heart into a cinematic venue," she told Self magazine. "I just wanted to talk about family and life and love and friendship, and trying to find your way into empowerment in life in a way that's also fun and funny. For me, it's just really trying to express myself into a film."
OK! NEWS: WIN IT! WHIP IT DVD AND SOUNDTRACK
Since the film was about family the cast was luckily to become one of their own.
"If you're trying to convey a family, it's really good and healthy if you can create a family in the working environment so that that chemistry is really authentic and true," Drew explains. "Everybody was just like a great little family and it doesn't always work that way--you can hope for that, but it may not happen. But it did in this case which was just magical."
Article continues below advertisement
Part of what helped the cast bond was how much training they put in to learning how to skate.
"Everyone had one month, solid six days a week of training before. You get hurt together and you root each other on when you learn something new and you get better," she said. "That's just such a wonderful bonding thing."
OK! HOT GALLERY: DREW AND JUSTIN ENJOY A LITTLE SMOOCH WITH THEIR LUNCH
As for bonding with her boy Justin on Valentine's day Drew says she tries to do that every day and not just that one day.
"I don't really think about it very much other than just to be with the people you love," Drew said of the holiday. "I don't think I've ever done that really conventional romantic thing. I like being with my friends and having a fun time. I feel so bad when that holiday makes people feel really bad, it's not fair."