NEWS
Drew & Justin Interview Each Other Long-Distance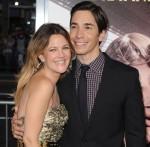 Long-distance relationships can be rough, but in Drew Barrymore and Justin Long's new film, Going the Distance, they've learned ways to cope. BlackBook Magazine invited the on-again, off-again couple to ask each other ten questions via e-mail.
OK! GALLERY: GOING THE DISTANCE STARS LIVE UP TO THEIR NAME IN L.A.
Drew and Justin each e-mailed each other ten questions to answer for BlackBook Magazine.
Here's a few of Drew's questions for Justin!
Article continues below advertisement
Ginger or Mary Ann?
This is hands down the easiest question to answer: Mary Ann.
Did you use an a** double in the movie?
I did, actually. Her name is Helen Mirren. She was really nice and totally professional.
OK! NEWS: JUSTIN LONG'S GOING THE DISTANCE TO DISCUSS RELATIONSHIP WITH DREW
If you were stranded on a desert island, what are the five things you would have to have?
Assuming people don't count as "things," I'd bring a book about wilderness survival (including a chapter on ship building), a Swiss Army knife, waterproof matches, a picture of my family and loved ones, a pen and ink supply, and, of course, a volleyball (for friendship). I know that's six things, but one was a joke.
What was your favorite thing to do in New York on your days off?
I liked walking around the city, finding new restaurants and things to do while holding my best friend's hand.
Aww, too cute! We wonder if that's Drew?
OK! GALLERY: DREW & JUSTIN GET COZY ON THE DISTANCE CARPET
And of course, Justin had some similar questions for Drew!
Ginger or Mary Ann?
Ginger. Few things get me hotter than a redhead.
What's your go-to karaoke song?
Article continues below advertisement
"Paul Revere" by the Beastie Boys.
OK! NEWS: JUSTIN LONG ON FILMING WITH DREW — "IT MADE HER SO MUCH MORE BEAUTIFUL"
How do you define happiness?
When you're laughing so hard at something that it starts to hurt. It becomes truly painful and it won't stop. And then, when it's over, you think, I will remember that and I can't wait until it happens again.
If your house was burning down, what items would you save?
My toothbrush, my Tony Robbins inspirational seminar tapes on Betamax, my easel, my birth certificate, my jar of pennies, my toe socks, and my framed list of awesome Matthew McConaughey quotes.
For more of Drew and Justin's email interview, check out BBook.com. Going the Distance hits theaters on Sept. 3.