NEWS
Justin Long's 'Going the Distance' to Discuss Relationship with Drew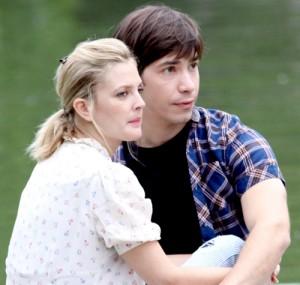 Just like Jennifer Aniston has to talk about babies because she's starring in The Switch, Justin Long has to discuss his relationship with Drew Barrymore because they're starring in Going the Distance.
OK! GALLERY: DREW & JUSTIN ENJOY A LITTLE SMOOCH WITH THEIR LUNCH
Justin and Drew are in an on-again, off-again relationship and while Justin spoke to New York Magazine for their new issue they were off, but right before they went to press...
Article continues below advertisement
"We've been through everything, the whole gamut of the heights of love to the depth of heartbreak," Justin says of his relationship with Drew. "I mean, we've been on quite a journey. And the idea that a person that you're in a relationship with can change you so drastically and have that deep of an effect on your life, just that idea, I mean, what a gift to be able to use that, to be able to create something from it that we can see again. It's like a little time capsule. It's a bit of permanence that usually doesn't exist when you're with somebody."
OK! NEWS: DREW BARRYMORE DISHES ON PHONE SEX EXPERIENCE
Justin admits he tends to try and avoid "too intense personal situation," but since they're both starring in Going the Distance they've had to deal with it.
"A real pickle we're in, huh?" he laughs. "You can't say 'no comment' when you're, like, doing several days of junkets. Together, no less."
And Justin and Drew were dating while filming He's Just Not That Into You, but broke up before the promotion of it, so Justin says, "I know we're both capable of handling it."
Article continues below advertisement
OK! GALLERY: JUSTIN LONG GOES FOR A HAIR-RAISING RUN
"The truth is, we do love each other. I pray to God she's always in my life," Justin explains. "We were friends before this, and at the heart of what we are and will be is friends. Two good, really dear friends, and that trumps anything else."
But right before the magazine went to print, Justin called them up to say he and Drew might be reconciling!