NEWS
DVR This!: Dr. Jekyll and Mr. Hyde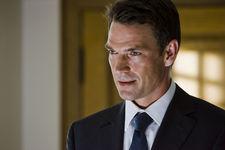 Desperate Housewives' alum Dougray Scott isn't feeling too much like himself in his new film, Dr. Jekyll & Mr. Hyde, a modern-day retelling of the classic man-turned-killer saga.
"Rather than relying on makeup and prosthetics, it's very much a psychological transformation," Dougray says of Dr. Jekyll, who can no longer control his dual personality, the evil Edward Hyde. "It's the exploration of the dark side of one's soul."
Article continues below advertisement
If playing it real bad wasn't enough challenge, Dougray has to get up close and personal with himself in the film. "I had to kiss myself," he says of one harrowing scene.
Self-gratification aside, Dougray had a blast remaking the classic tale. "I loved the Spencer Tracy version," says the 42-year-old Scottish native. "It's a wonderful tale, and I had a lovely time doing it."
Dr. Jekyll and Mr. Hyde airs Saturday, May 17 at 9 p.m. on Ion Television.