NEWS
DVR THis: The Starter Wife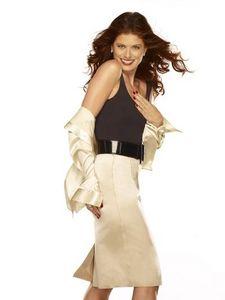 The Starter Wife, starring Debra Messing, is officially kicking off as a series tonight!
My L.A. counterpart, OK!'s Carole Glines got the scoop on newcomer David Basche, who's taken on the role of Debra's annoying ex.
When The Starter Wife was a miniseries on USA last season, Peter Jacobson played the role of Kenny, the annoying mogul ex-husband of Messing's character Molly.
Jacobson had already made a commitment to the TV show House when Starter Wife was picked up as a series this season, and the role was recast with Basche, who previously played Dakota Fanning's stepfather in War of the Worlds and Todd Beamer in United 93.
Article continues below advertisement
David is soon to be a starter father. His trailer has been rocking on the set because his pregnant actress wife, Alysia Renier, is also on the show, playing another starter wife.
"We met when we were kids who had nothing," she recalls. "I thought David was really cool because he was a waiter in New York and had done a walk-on on a soap opera." He laughed, "I was a catch!"
Now they're an established acting couple and Alysia says, "he's been the most extraordinary husband in whatever I need or want…be it food or sex."
David and Alysia are expecting their first child in December. Alysia swears that her pregnancy has helped their love life.
"My sex drive is through the roof and he's been so phenomenally accommodating."
An embarrassed David smiles. "I'm blushing. It's been nice to work on the same set together."
Sure sounds like it is!
The Starter Wife premieres Friday, Oct. 10 at 9 p.m. on USA.