NEWS
'DWTS' Contestant Erin Andrews Faced with Death Threats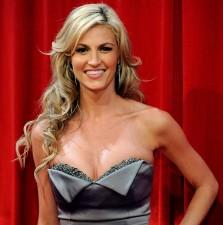 Back in the spotlight as a new contestant on Dancing with the Stars, ESPN reporter Erin Andrews has only recently learned that death threats against her were being sent to DirecTV's the Dan Patrick Show since September.
The letters originally started off as sexually-based in October 2009, but the predator took a much more violent turn in recent weeks wishing death upon the reporter.
Article continues below advertisement
"I hope she gets shot in the face. I would love to see if she can dance away from a hail of gunfire. That would really make my day," the identified Newport News native wrote in one of many threatening letters to the television show on March 26 according to law enforcement sources at TMZ.
Starting to send letters during the trial of Erin's former stalker Michael David Barrett, the Virginia-based man took his threats to an entirely new level by writing that "I would love to get close enough to her to show her my suicide vest."
ERIN ANDREWS ON 'DWTS': "THERE IS BLOOD ON THE DANCE FLOOR"
And, now Erin's lawyer could not be more upset by the fact that the correspondent was only informed of the sexual and violent natured letters months after they originally started to come through.
"We are outraged that these emails did not come to our attention until now," lawyer Marshall Grossman revealed to TMZ of not being notified about the threats for five months.
Article continues below advertisement
OK! NEWS: MAKSIM CHMERKOVSKIY MAKES ERIN ANDREWS NERVOUS
On the contrary, DirecTV, who airs the Dan Patrick Show, insists that they were only notified of the letters recently.
"DIRECTV executives at the Dan Patrick Show became aware of the threatening emails on March 30 and immediately notified DIRECTV corporate security who then immediately contacted the appropriate authorities and representatives of Erin Andrews."
THE 'DWTS' CAST: "WE ALL LOVE KATE GOSSELIN"
As of now, TMZ reports that the Federal Bureau of Investigations is well aware of the predator's name and is investigating the matter.
Erin, who is partnered with Maksim Chmerkovskiy on Dancing with the Stars this season, was faced with a previous issue when a different stalker, Michael David Barrett, illegally filmed the host in her hotel room.