NEWS
Erin Andrews on 'DWTS': "There is Blood on the Dance Floor"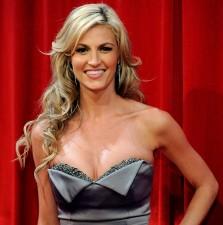 Dancing with the Stars has gained a reputation as one of the most physically grueling competitions on TV, but is the curse already set to strike again?
ESPN reporter Erin Andrews is preparing for her second night of competition on Monday, but already she's battered and bruised after being put through her paces by Maksim Chmerkovskiy.
OK! NEWS: DWTS CAST: WE ALL LOVE KATE GOSSELIN
"I am actually okay right now," she told ET Online. "The only thing that hurts on me is my feet. My toes are kind of swollen. I am kind of a klutz, so I end up scraping my toes with my heels. There is blood on the dance floor. But that is kind of hot. I like to be all scarred up like a hockey player."
Article continues below advertisement
But, there is one silver lining — she thought the costumes would be tighter. "I am able to breathe. I thought it was going to be like suffocation," she says.
OK! NEWS: JAKE & VIENNA INVEST IN THEIR PDA ACCOUNT
It's a different story for skating champ Evan Lysacek fresh from his Vancouver triumph. "My training is about concentration and learning the steps," he says.
"Physically, I have been skating for four minutes and 40 seconds and this is about a minute and a half, but it is chock-full of steps, so just remembering the placement of everything — where I go and where my partner goes — is the biggest challenge so far."
OK! HOT GALLERY: DANCING WITH THE STARS — SECRETS OF THE CELEBS
Does fellow Olympic gold medalist Kristi Yamaguchi's Dancing with the Stars win put pressure on Evan?
"A little bit of pressure," Evan admits, "but this is something I came into after one of the most intense four year cycles and led up to the most intense event of my life. I am in it to have fun, and I am in it to do something new.
"As I put more sweat and energy into it, I am getting a little more competitive, but right now, I am having fun with my castmates."