NEWS
DWTS: Eliminated Star Rips into Carrie Ann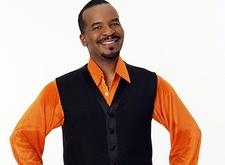 In the early '90s, David Alan Grier and Dancing with the Stars judge Carrie Ann Inaba worked together on Fox sketch comedy show In Living Color. But after the actor and comedian was eliminated from DWTS on Tuesday night, he had some tough words for his former Fly Girl.
"She better not come within ten feet of me because she's getting a foot in her ass," David told OK! after getting the bad news. "I feel like we never got the respect of the judges. Never!"
Article continues below advertisement
But David added, "I don't regret anything. It's a crazy show, a wonderful show. I don't want to talk too much."
David's ousting came as a bit of a surprise because he had bested football star Lawrence Taylor in this week's "dance-off" between the two lowest scoring competitors. While David earned a 24 for his redo of the Viennese waltz routine— improving on his score of 22 the night before—Lawrence got the same mark, a 20, for his second version of the paso doble.
Still, it was David and his partner Kym Johnson who said their goodbyes. He told OK! he felt "kind of disappointed. I really felt like we had more to give — but it's a dance show. We're not going to cure cancer and I don't think we'll heal any babies with this show. It is what it is but you put a lot into it."
When asked what he'd do next, David gave OK! a display of his trademark wit: "Seek counseling, go back to my therapist, get back on the meds and stop harassing Kym. I used to show up at all hours, 'Kym, can you rehearse?' 'David, go away!' You never want to hear that — 'You're frightening me.'"
Article continues below advertisement
But seriously, David is writing a book about his life called Barack like Me, which will be published in the fall. "It's mainly about this last year leading up to Barack Obama's election and the changes America went through and my thoughts on all of that and it ends with Dancing with the Stars. I've been keeping a diary and so I'll talk about this experience."
His big-screen comedy, appropriately titled Dance Flick, will be released May 22. "It's a spoof on Step it Up and those kinds of movies that the Wayans Brothers did. I play the evil 1,000-pound henchman but I do this huge dance number at the end. I had to wear 60 pounds of padding."
But in real life, thanks to DWTS, David lost 28 pounds and has never felt better. "My biggest disappointment is I did not lose 30," he said. "I was going to power through and chew some gum and smoke some cigarettes to get those pounds down."
Pro Kym sighed about their elimination, "That's the way it goes. I think we were in the middle of the pack and maybe the fans felt we were okay and voted for the ones on the bottom. Comedians have not really had a good track record on Dancing with the Stars."
The other competitors, relieved to have made it through, move on to next week. Ty Murray, who was in the bottom three this week with partner Chelsie Hightower, admitted to OK! he has some work to do. The rodeo cowboy said he and wife Jewel watched the replay of his stiff performance of the paso doble from Monday night, and "she laughed at me. It was funny."
By Carole Glines