NEWS
'DWTS' Results Show: The Situation Eliminated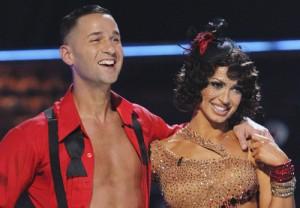 Mike "The Situation" Sorrentino abs proved to be mightier than his dance moves. That's what fans of Dancing With the Stars apparently decided as the Jersey Shore hunk was eliminated from the ABC reality show on Tuesday night.
Although the reality show star tried his hardest to master dancing and change his image, he couldn't go deep into the competition and he became the fourth celebrity kicked off DWTS this season.
Article continues below advertisement
The Situation was angry last night when the judges gave him a score of 28 out of 60 for his Argentine tango with partner Karina Smirnoff, which included moves that required the abs-tastic star to lift her off the ballroom floor.
Judge Bruno Tonioli wasn't impressed, calling the dance a "terrible mess." Mike's score was the lowest of the night.
OK! NEWS: JENNIFER GREY TANGOS TO THE TOP
As OK! previously reported, on Monday night, The Situation told reporters, "I was very upset. I really tried hard. Those lifts I was doing were extremely difficult. They didn't acknowledge any of it. It's tough on your pride."
But the straight-talking reality star said if he got voted off on Tuesday, "I will bow gracefully and say, I did my best."
Article continues below advertisement
However, The Situation didn't show up for the traditional post-show press exit interviews after the Tuesday show. Mike's rep explained to OK! why he couldn't make it: "he had a doctor in his trailer. He's having some neck issues."
When his loyal partner Karina walked the red carpet by herself, though, she thought Mike had a dental problem: "He's a little upset with himself but I think he's more concerned because his cheek started to swell up during the day because he had a wisdom tooth. I think if it's his wisdom tooth, if he's like 28, 29, I think it's kind of weird because it's pretty late but whatever it is, he's been taking Advil and the doctor is finally here.
"We were hoping that we weren't going to get eliminated so he could see the doctor and do the press line, but now we have to jump in the car and go to Kimmel."
While confused about The Situation's physical condition on Tuesday night, Karina was clearly not shocked by the results: "It was very predictable after last night. I totally thought it was going to be us.The scores were quite low and the remarks weren't that encouraging, either," she laughed to reporters.
Article continues below advertisement
"But it's okay. I had so much fun on the show and I got to meet the real Mike and he's a sweetheart. I think his time was cut a little too short on the show. I think he had a couple more weeks in him but it is was it is and we're going to take it with a grain of salt and go to Jimmy Kimmel show and then afterwards, celebrate."
In the moments before his elimination, when the DWTS beating heart music played, The Situation cracked up the crowd by flexing his famous abs in time to the beat. Karina said, "Afterwards, I was like, 'what were you doing?' He goes, 'just flexing.' Someone is going home. It is a dramatic moment but it's still a TV show and I think he was just trying to make light of a more dramatic situation."
Karina sighed of their performance, "I promised him the judges and the audience were going to appreciate the hard lifts that he did — and I guess the judges didn't. He was a little upset because he really put a lot on the line.
"He's obviously not a dancer and he improved from week one to week four tremendously. Hopefully he'll keep on dancing."
She and Situation developed a good rapport during the show, but don't expect her to visit the Jersey Shore: "I think it's a very entertaining show but I don't know what role I would be playing. I could be the drill sergeant that would come in and put everyone in check. I'll get everyone to do GTD — gym, tan, and dance!"
Article continues below advertisement
Mike's DWTS friends were sad to see him go.
"I feel really bad for him because I know how much it meant to him. I just wish him the best," Brandy said.
When asked if the judging had been too harsh on The Situation, however, Kyle Massey's pro partner Lacey Schwimmer told OK!, "Here's the thing—you gotta take the criticism and not really take it personal. That's the problem that these people are having and Kyle and I both know going into it that they can say the worst things about us — but it's not personal. And you've gotta take your routines and work on them and that's the attitude you have to have in this competition. If you don't have it, you're not going to be a happy person."
Meanwhile, Bristol Palin and Mark Ballas, who got the second lowest score this week and landed in the bottom two with Mike and Karina, survived and will move on with the six remaining couples. Next week each team will dance to a TV theme song.
Derek Hough, who got the highest score this week with his partner Jennifer Grey (and who can be seen helping renovate a house on this Sunday's Extreme Makeover: Home Edition), said, "We're dancing the foxtrot to Frank Sinatra."
Article continues below advertisement
Although he wouldn't name the TV show, it sounds an awful lot like "Love and Marriage" from the long-running sitcom Married with Children.
Brandy and Maks Chmerkovskiy will perform to the Friends theme and Kyle and Lacey's foxtrot will be to Charlie's Angels.
Florence Henderson hopes to dance with Corky Ballas to the theme from The Brady Bunch, natch.
But because of music clearance drama, America's favorite TV mom confided that she might be forced to go with The Addams Family instead! Florence sighed that people might be wondering, "Why isn't she dancing to the Brady Bunch theme?" But she added, "I'm a very flexible person. I do what I'm told on this show."
Mums the word on what Rick Fox and partner Cheryl Burke will perform to next week, but it won't include his sexy mustache, as the basketball player has already shaved it off.
Audrina Patridge and Tony Dovolani will rumba to her theme song from The Hills by Natasha Beddingfield and they started practicing as soon as they were declared safe. "It's all about the hips," Audrina smiled.
Tune in Monday night to see the rest of the couples try to do their TV theme songs proud. It's sure to be a crowd-pleaser!