NEWS
DWTS Watch: Adam Carolla Eliminated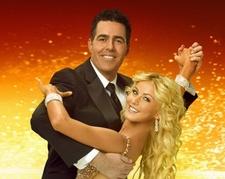 The comic relief will be missing from Dancing With the Stars for the rest of this season as comedian Adam Carolla was eliminated Tuesday night.
The last dance for the radio host also means his end to the winning streak of his pro dance partner, Julianne Hough, who had won the past two seasons with celebrity partners Apolo Anton Ohno and Helio Castroneves.
"I'm disappointed and relieved at the same time," Adam told OK! backstage after the show. "I feel like I let Julianne down."
Article continues below advertisement
But Adam's partner told OK! he shouldn't worry about her. "He hasn't let me down at all!" Julianne exclaimed. "He did an amazing job. He was one of the best things about the show this season. Adam has improved so much week to week."
The former Man Show host, who shocked the judges last night by riding a unicycle as part of his bizarre paso doble performance, said, "I know the judges sometimes aren't huge fans of what they call props but I think they look at most props as crutches, and the unicycle was hardly a fake set of bullhorns!"
The funnyman, who dubbed the style of his Latin dance ensemble and face makeup "silent porn star," admitted his dance skills can't match his comedy. "Honestly, I'd rather leave a little bit early than be the one that's hanging around while other people who can dance better than me get voted off," he shrugged.
He's happy to have lost 20 pounds dancing and to go home to his wife and twins, who will turn 2 years old in June. The Hammer star is continuing his radio show and added, "I have a couple of TV shows lined up."
Article continues below advertisement
Meanwhile, Julianne might not be returning to Dancing With the Stars next season, as she's now pursuing country music. Her debut album comes out May 20 and she'll be touring this summer with singer Brad Paisley.
"Obviously singing is where I really want to take my career. I love country music — the artists really stay true to themselves and the fans are fans for life," she said. Her brother, dancer Derek Hough, who is still in the competition with actress Shannon Elizabeth, is also a singer and told OK! he hopes to join Julianne on stage at some point during her tour.